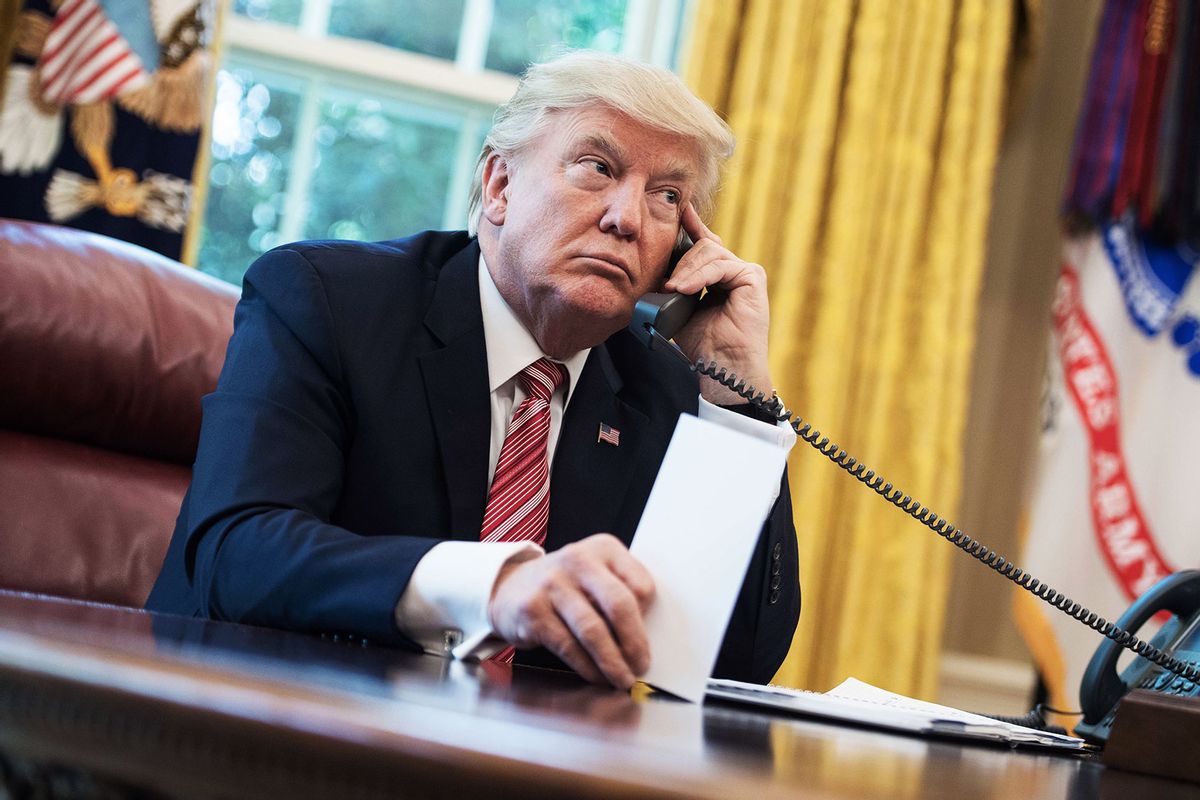 Former President Donald Trump admitted in a 2021 meeting that he had a "secret" document he did not declassify, according to a transcript of a recording obtained by CNN.
"As president, I could have declassified, but now I can't," Trump says, according to the transcript, while discussing a previously reported classified document discussing a potential attack on Iran.
Trump, who was indicted on seven counts related to his handling of classified documents on Thursday, has repeatedly claimed that he was allowed to take the documents home and that he declassified them, at one point claiming he had the power to declassify documents with just his mind.
The recording was made during a meeting Trump had at his Bedminster, N.J. golf resort with two ghostwriters working on former chief of staff Mark Meadows' autobiography.
Sources told CNN that the recording captures the sound of papers rustling, as if Trump was waving the document around, though it's unclear if it was the actual document.
"Secret. This is secret information. Look, look at this," Trump says at one point, according to the transcript. "This was done by the military and given to me."
Trump at the meeting was complaining about Chairman of the Joints Chief of Staff Gen. Mark Milley after The New Yorker reported that he instructed the Joint Chiefs to ensure that Trump did not issue any illegal orders in his final days in office.
"Well, with Milley – uh, let me see that, I'll show you an example. He said that I wanted to attack Iran. Isn't that amazing? I have a big pile of papers, this thing just came up. Look. This was him," Trump says, according to the transcript. "They presented me this – this is off the record, but – they presented me this. This was him. This was the Defense Department and him. We looked at some. This was him. This wasn't done by me, this was him.
---
Want a daily wrap-up of all the news and commentary Salon has to offer? Subscribe to our morning newsletter, Crash Course.
---
"All sorts of stuff – pages long, look," Trump continued. Wait a minute, let's see here. I just found, isn't that amazing? This totally wins my case, you know. Except it is like, highly confidential. Secret. This is secret information. Look, look at this."
Former federal prosecutor Noah Bookbinder, the president of the watchdog group Citizens for Responsibility and Ethics in Washington, tweeted that the recording is "absolutely devastating."
"Just blows a hole in the defenses Trump had been putting out," he wrote.
"This looks like highly damning evidence for the prosecution," wrote NYU Law Prof. Ryan Goodman.
Read more
about the Trump indictment