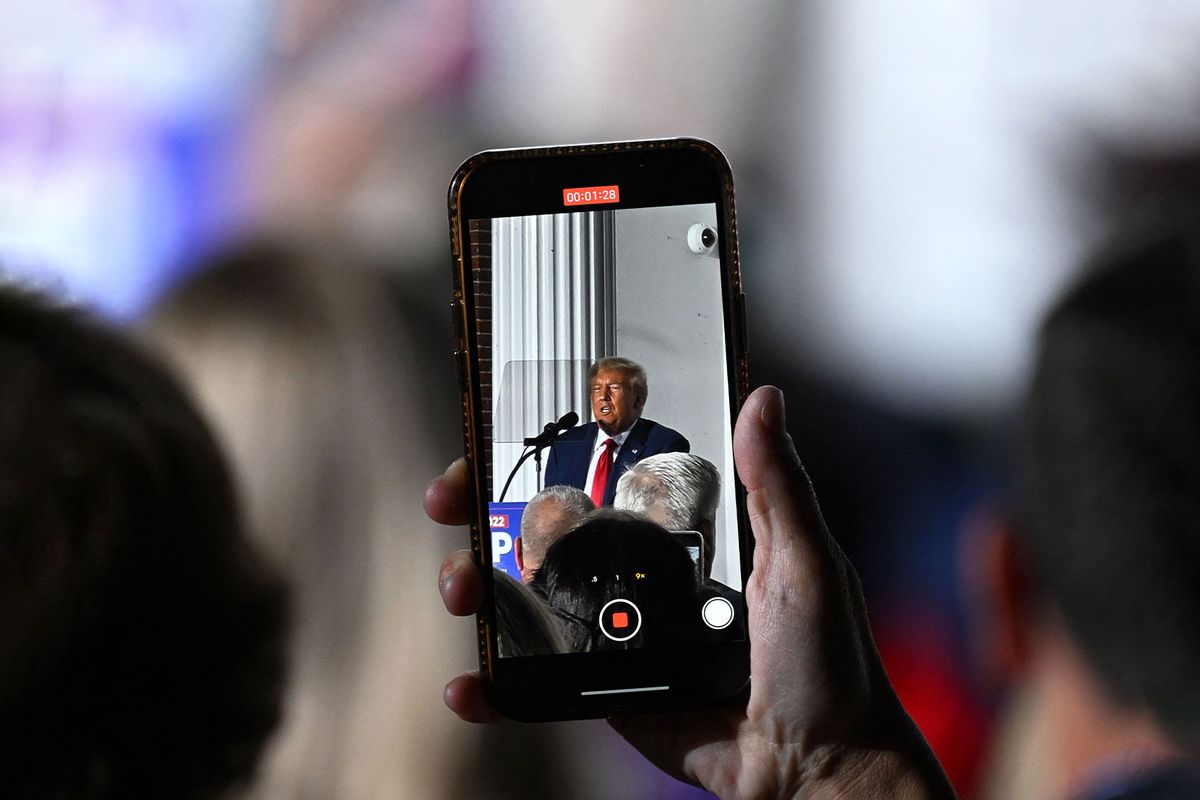 Former President Donald Trump fired off a series of all-caps Truth Social posts to decry his most recent indictment after he was arraigned on Tuesday in the Justice Department's investigation into his handling of classified documents and alleged attempts to obstruct government efforts to retrieve them.
After his earlier court appearance, Trump held a rally in Bedminster, N,J., and assailed the indictment as "the most evil and heinous abuse of power" in the country's history. He took to Truth Social later that night to share a series of clips from the event and further his claims against the investigation.
"POLITICAL PERSECUTION!" the former president wrote over the first of nine videos and articles he shared to the conservative platform. He alleged in subsequent posts that the "weaponized agencies" carrying out the probe have been running "illegal psychological warfare campaigns" against Americans for the last seven years and regurgitated Republican lawmakers' bribery claims against President Joe Biden.
"They want to take away my FREEDOM because I will never let them take away your FREEDOM," Trump continued. "They are not coming after me. They are coming after you. I just happen to be standing in their way, and I will NEVER be moving."
On his way to the courthouse for his arraignment, Trump again denounced the indictment as a "witch hunt" on Truth Social but thanked his Miami supporters for their "warm welcome."
"ONE OF THE SADDEST DAYS IN THE HISTORY OF OUR COUNTRY. WE ARE A NATION IN DECLINE!!!" he said in a post.
Trump pleaded not guilty to all 37 felony counts argued in the Justice Department's 44-page indictment, which was announced Thursday and unsealed Friday after the yearlong investigation into his handling of sensitive files he took with him to his Mar-a-Lago resort club.
The charges outlined in the full indictment include willful retention of national defense information, conspiracy to obstruct justice and making false statements, and accuse his aide and now co-defendant Walt Nauta of six of the counts.
Though Trump maintains that he did nothing wrong, often citing the Presidential Records Act, the law establishes that all presidential records belong to the federal government. 
"He's scared s—less," Trump's former chief of staff, John Kelly, told The Washington Post of the former president's reported nonchalance leading up to his court appearance. "This is the way he compensates for that. He gives people the appearance he doesn't care by doing this. For the first time in his life, it looks like he's being held accountable. Up until this point in his life, it's like, I'm not going to pay you; take me to court. He's never been held accountable before."
New York lawyer David Lurie argued in media and politics newsletter Public Notice Wednesday that the viral image of Trump's box-filled Mar-a-Lago bathroom unveiled in the indictment is likely the most politically damaging part of the special counsel's case against him.
"It's a deeply embarrassing document that portrays Trump as a weak and incompetent buffoon rather than the valiant warrior against the deep state his followers have so long believed him to be," Lurie wrote.
---
Want a daily wrap-up of all the news and commentary Salon has to offer? Subscribe to our morning newsletter, Crash Course.
---
J. Michael Luttig, a former judge of the United States Court of Appeals for the Fourth Circuit who previously served as an adviser to former Vice President Mike Pence, asserted that there is no "Attorney General of either party who would not have brought today's charges against the former president" in a series of tweets Tuesday evening.
"He has dared, taunted, provoked, and goaded DOJ to prosecute him from the moment it was learned that he had taken these national security documents," the judge said of Trump, adding that the former president could have skirted the federal prosecution and charges at any point up to his indictment.
"After a year and a half," Luttig concluded, "he finally succeeded in forcing Jack Smith's appropriately reluctant hand, having left the Department no choice but to bring these charges lest the former president make a mockery of the Constitution and the Rule of Law."
Read more
about the Trump indictment