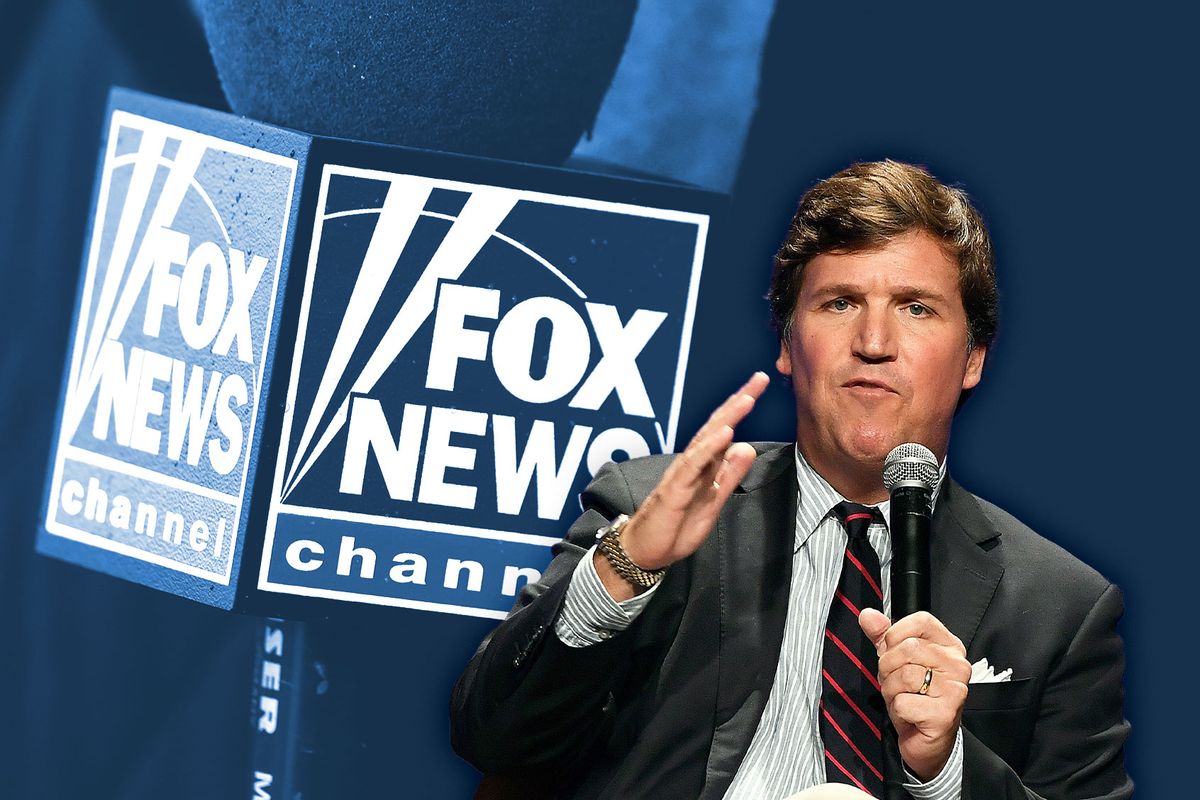 Fox News has sent a cease and desist letter to former host Tucker Carlson demanding that he stop producing videos for a program he began on Twitter earlier this month after his ouster from the right-wing network in April.
Fox's letter reportedly includes, in bold letters, the words "not for publication" at the top.
Within the letter, Fox News accuses Carlson of violating a contract that he signed with the network in November 2019 and amended in February 2021. The contract runs through January 2025, and forbids Carlson from appearing in media that is not under the Fox umbrella of networks.
In exchange, Carlson continues to get paid $25 million annually from the network through the remainder of the deal.
A lawyer for Carlson, Harmeet Dhillon, blasted Fox News for trying to silence Carlson's Twitter program, claiming that the move would backfire on the network and further alienate its viewers.
"Doubling down on the most catastrophic programming decision in the history of the cable news industry, Fox is now demanding that Tucker Carlson be silent until after the 2024 election," Dhillon said. "Tucker will not be silenced by anyone."
Carlson was fired from Fox News in April after text messages he sent became a central part of a defamation lawsuit against the network by Dominion Voting Systems. Like other Fox News personalities, Carlson was accused of allowing guests on his show to falsely claim that the voting machine company enabled fraud in the 2020 election without pushback or fact-checking. Carlson's texts also included messages that were racist and politically violent, which played a role in his ouster.
Carlson and his lawyers have alleged that Fox News and its parent company's treatment of him was a breach of contract, and allows him to pursue other media opportunities. Fox News and its chair, Rupert Murdoch, "intentionally and with reckless disregard for the truth" broke promises to Carlson when they fired him, the lawyers said prior to his "Tucker on Twitter" program airing.
Fox News has not publicly commented on its cease and desist letter to Carlson.
Like his former network program, "Tucker on Twitter," which first aired on June 6, pushes far right conspiracy theories based in racism and paranoia. Carlson has continued to peddle white supremacist talking points on the new show; in the first episode, for example, he uses anti-semitic tropes to criticize Ukraine President Volodymyr Zelenskyy.
Although Carlson has promised to expand the show — its current roughly 10-minute format pales in comparison to his former program's runtime at Fox News — media critics have said that it still falls short in terms of production value.
"As a production, 'Tucker on Twitter' looks less like a newscast than one of the improvised lockdown shows that late-night talk hosts recorded from home in the early Covid days of 2020," wrote The New York Times's television critic James Poniewozik earlier this month.
"What do you get when you strip Tucker Carlson of his multi-million dollar studio, crew of writers, and a much coveted 8 p.m. time slot on the nation's most-watched cable news channel? Just a guy, posting online, trying desperately to recreate what he no longer has," The Rolling Stone's Nikki McCann Ramirez said of the show.