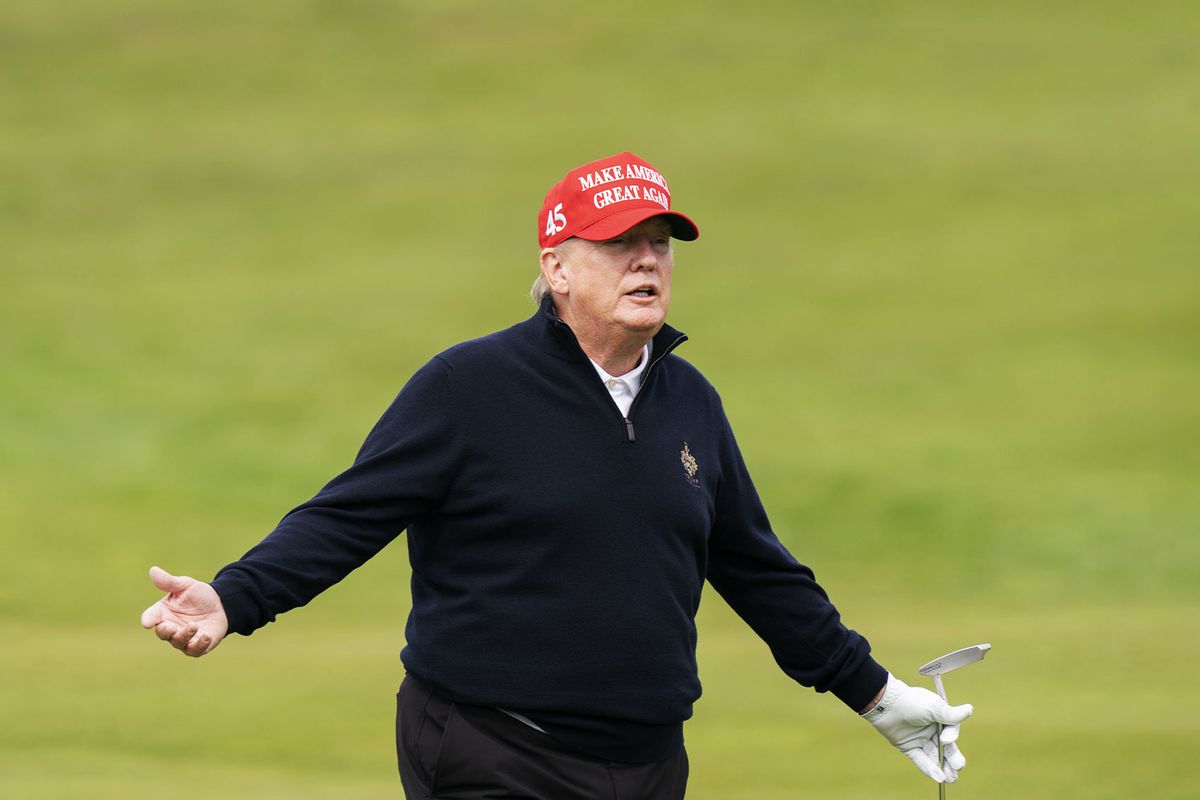 Lawyers for Donald Trump met with top Justice Department officials on Monday to make the case that the former president should not be charged in connection with his possession of classified documents after leaving office, The Washington Post reported. 
The meeting included Trump attorneys Jim Trusty, John Rowley and Lindsay Halligan, who spoke with the special counsel Jack Smith other DOJ officials, CBS News reported.
"Special counsel Jack Smith's decision to meet with former President Trump's lawyers suggests that Smith is near a final decision about whether to charge the former president for his handling of classified documents and possible obstruction of the DOJ's investigation into his conduct," Temidayo Aganga-Williams, partner at Selendy Gay Elsberg and former senior investigative counsel for the House Jan. 6 committee, told Salon. 
He added that it isn't "atypical" for senior DOJ officials to meet with counsel representing individuals in high-profile, public investigations prior to a final charging decision. Such meetings are also unlikely to change the course of the special counsel's investigation, Aganga-Williams said.
The meeting came two weeks after the former president's legal team requested to meet with Attorney General Merrick Garland to raise concerns about what they alleged was unfair treatment of Trump over his handling of classified documents compared to other former presidents.
After Monday's meeting concluded, Trump posted on his Truth Social platform in capital letters:  "How can DOJ possibly charge me, who did nothing wrong, when no other president's were charged…"
He referenced the probe into Hillary Clinton, who was investigated by the FBI for having classified information on her private email server, which ended without criminal charges, and another ongoing investigation into classified documents found in the office and home of President Joe Biden. 
"… only trump – the greatest witch hunt of all time!" he wrote in all caps. 
Unlike the investigations into Biden and Clinton, the Trump inquiry has focused on potential obstruction of the investigation and efforts to retrieve classified documents. 
For months, prosecutors have been examining whether Trump or his associates intentionally impeded their inquiry and attempts to recover classified materials. 
In August, the FBI obtained a search warrant after suspicions arose that not all classified documents had been handed over despite the former president being issued a subpoena. 
The FBI eventually carried out a search of Mar-a-Lago last August and found over 100 documents with classified markings at Trump's Mar-a-Lago residence.
"Trump's attorneys are just working the referees, hoping to avoid a thorny legal mess for the former president," Brandon Rottinghaus, a political science professor at the University of Houston, told Salon.
---
Want a daily wrap-up of all the news and commentary Salon has to offer? Subscribe to our morning newsletter, Crash Course.
---
A federal grand jury in D.C. has heard testimony from several witnesses in relation to the ongoing investigation. 
Most recently, the special counsel's team obtained a recording in which Trump admitted to holding onto a classified Pentagon document about a potential attack on Iran.
The recording as well as surveillance video showing boxes of documents being moved at Mar-a-Lago by Trump's aides can serve as crucial pieces of evidence that could potentially be used in a case against Trump, according to legal experts. 
While several former White House aides and Mar-a-Lago employees have been called to testify in secret proceedings, grand jury testimony has slowed in recent weeks, sources told CBS. 
Now, recent reports suggest that Smith's probe into the former president appears to be nearing its end. The special counsel is also leading a separate investigation into efforts by Trump and his allies to challenge the results of the 2020 presidential election.
"The best offense is a good defense in this case," Rottinghaus said. "If his attorneys can forestall prosecution in this case, they can make the former president's legal and political life a little easier."
Read more
about the Mar-a-Lago probe