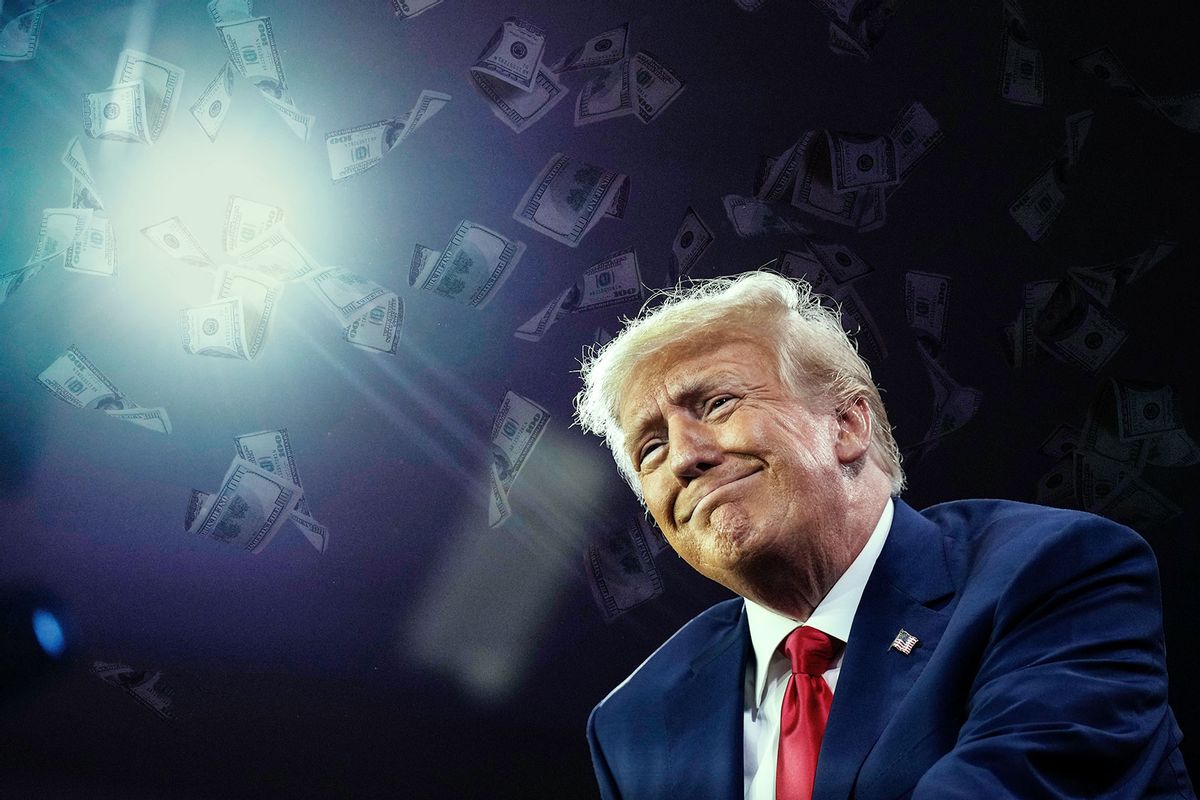 Former President Donald Trump is diverting money he has raised from his 2024 presidential campaign into a political action committee that he has used to pay his personal legal fees, according to The New York Times. 
​​The disclosure text on the WinRed digital fundraising platform for the Trump presidential campaign was updated to state that 10% of the money raised will be sent to the Save America PAC, which has funded Trump's legal bills in the past. When Trump first launched his campaign, 99 cents of every dollar went to his campaign while just one cent was directed toward the Save America PAC.
"President Trump's Save America PAC has had a dubious track record of fundraising," Temidayo Aganga-Williams, partner at Selendy Gay Elsberg and former senior investigative counsel for the House Jan. 6 committee, told Salon. "Now, President Trump continues to exploit his political base by raising money once again for his own personal benefit."
The impact of Trump's legal battles is evident in the increased legal expenditures of the Save America PAC, according to Federal Election Commission filings. These expenses reportedly surged from $1.9 million to $14.6 million in 2022.
The former president's legal bills have piled up after he was indicted by a Manhattan grand jury on charges related to a hush-money payment to adult film star Stormy Daniels and another indictment including violations of the Espionage Act arising from his possession of classified material and government records after he left the White House.
"The New York trial is scheduled for March and the federal trial for August 2024," Neama Rahmani, a former federal prosecutor and president of Los Angeles-based West Coast Trial Lawyers, told Salon. "Trump will try to push the dates out, of course, but he needs to be prepared for the possibility that the judges won't agree and he must face a jury before the November 2024 election. There also is the possibility of a Georgia indictment, so for both legal and political reasons, Trump has shifted his priorities to financing his legal battles for now."
---
Want a daily wrap-up of all the news and commentary Salon has to offer? Subscribe to our morning newsletter, Crash Course.
---
Since his second indictment, several lawyers have left Trump's legal team with two resigning hours after he was charged with "felony violations of our national security laws" and "participating in a conspiracy to obstruct justice."
His history of treating attorneys like personal fixers and not paying their fees has made him a difficult client to work with, experts say.
"Any lawyer who takes Trump's case must be prepared to take the case all the way to trial because Trump won't take any deal, nor will the Department of Justice offer one," Rahmani said. "There also is the possibility the lawyer will lose other business because Trump is a controversial client. Federal judges make it difficult for lawyers to withdraw from a case due to client nonpayment. Lawyers may be asking for a significant up-front retainer to represent Trump in his federal case, and Trump needs money to cover his legal expenses now."
It remains unclear whether Trump will try to use his campaign funds to pay for lawyers and whether such a course of action would potentially violate spending regulations, but his track record remains under scrutiny. 
"After the 2020 election, President Trump's political operation raised hundreds of millions of dollars by claiming the funds were needed to fight election fraud," Aganga-Williams said. "Despite the stated purpose, Trump's team diverted much of the money to his Save America PAC, spending very little on actually fighting the election results."
He added that federal officials, including the Department of Justice and the Federal Election Commission, will continue to closely scrutinize Trump's political fundraising.
Read more
about Trump's legal woes