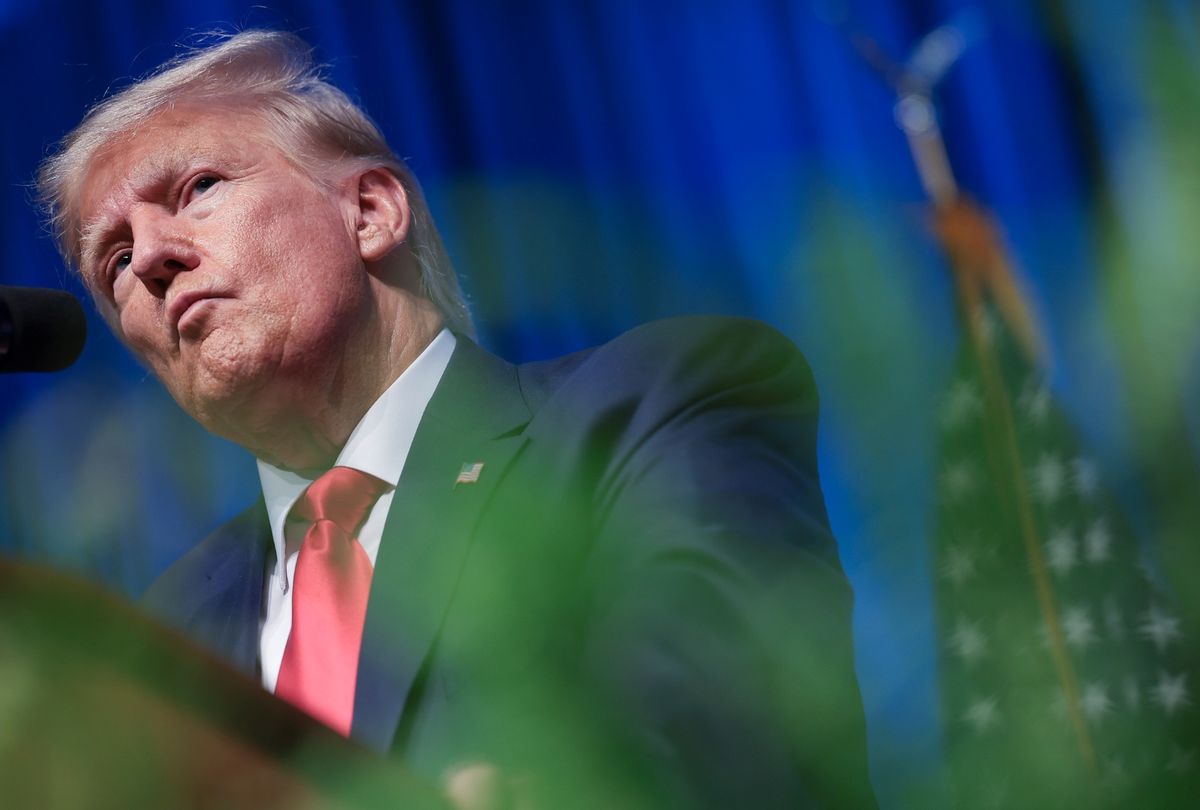 Former President Donald Trump's team is already plotting to ask a judge he appointed to block key evidence cited in the Justice Department's 37-count indictment in the Mar-a-Lago probe.
Legal experts sounded the alarm on Friday after Judge Aileen Cannon, a Trump appointee accused of favoritism after she blocked the FBI from using documents seized from Mar-a-Lago in its investigation before an appeals court overturned her order, was assigned to the Mar-a-Lago case. Trump's team, meanwhile, sees it as an opportunity to try a "ploy" to squash damning notes provided by his own lawyer, Evan Corcoran, in the case against him, according to The Daily Beast.
A D.C. judge ordered Corcoran to turn over his notes to prosecutors and provide testimony after agreeing with the DOJ that Trump may have used his services in furtherance of a crime. Corcoran's notes revealed that Trump mused openly about lying to investigators about the hundreds of classified documents stashed at Mar-a-Lago and appeared to suggest that his lawyer should destroy or hide evidence.
While it's too late for Trump's team to try to get the notes back from the DOJ, sources told the Daily Beast that his lawyers plan to ask Cannon to dismiss the charge that Trump personally plotted ways to obstruct the government's investigation, arguing that the notes should have been covered by attorney-client privilege.
The plan shows how the selection of Cannon "could play out favorably" for Trump, and a source told The Daily Beast that if it works, Corcoran could be "totally in the clear," though it would not insulate Trump from other charges.
Without a court intervention, Corcoran figures to be the "No. 1 government witness to prove Trump committed a coverup," wrote The Daily Beast's Jose Pagliery.
Trump last spring asked Corcoran and attorney Jennifer Little how he could avoid responding to a grand jury subpoena for the documents he failed to return to the National Archives, according to the indictment.
"Well, what if we, what happens if we just don't respond at all or don't play ball with them?" Trump mused. "Wouldn't it be better if we just told them we don't have anything here?"
"Well, look, isn't it better if there are no documents?" Trump asked.
Trump also repeatedly appeared to suggest that Corcoran should take the fall for him, citing an attorney for Hillary Clinton who he said deleted "the 30,000 emails" so that "she didn't get in any trouble," according to the indictment.
---
Want a daily wrap-up of all the news and commentary Salon has to offer? Subscribe to our morning newsletter, Crash Course.
---
The extensive notes have alarmed Trump's team.
 "They were way too detailed," a source familiar with the team's internal discussions told The Daily Beast.
Former Trump attorney Tim Parlatore, who recently resigned from the team, told the outlet that the allegations in the indictment are damning.
"It's really bad," Parlatore said. "That whole discussion about his interaction with Walt [Nauta] to move the boxes is bad. That's what people go to jail for. It's bad—if they have the evidence to back it all up."
But Parlatore added that Cannon is well-positioned to swing the lawyer notes aspect in Trump's favor.
"If another judge looks at it and says this is normal attorney client-communications, they can strike these charges out of the indictment and Corcoran's no longer a witness. He can try the case himself," he said.
Trump's lawyers previously "specifically sought out" Cannon in 2022 after they filed a lawsuit against Hillary Clinton but the "gambit failed" when a different judge, who was appointed by Bill Clinton, got the case and threw out the frivolous suit, The Daily Beast reported. Trump's lawyers "struck gold" months later when they landed Cannon in their challenge of the FBI search of Mar-a-Lago. Cannon appointed a short-lived special master and blocked the FBI from reviewing the most sensitive documents seized from Mar-a-Lago before an Atlanta appeals court overruled her.
Some legal experts have called on Cannon to recuse herself given her role earlier in the probe.
"She's demonstrated favoritism to Trump, and her past decisions in the investigation reversed by 11th Circuit were so erroneous that bias is clear," tweeted CNN legal analyst Norm Eisen, who served as Democratic counsel during Trump's first impeachment.
"Judge Cannon, who abused her discretion previously in favor of Trump, should recuse herself from the Trump case. If she doesn't, DOJ should file a motion to recuse. This issue is too important to ignore and hope for the best," wrote MSNBC legal analyst Glenn Kirschner.
Former Watergate prosecutor Jill Wine-Banks predicted it was "not likely" that special counsel Jack Smith would move to remove Cannon.
"Good news though: Trump cannot waive jury unless prosecutor agrees, so Cannon won't be deciding guilt, but she can delay the case and make unfair and legally incorrect rulings on admissibility of evidence," she tweeted.  
Carol Lam, a former federal judge and U.S. attorney, told MSNBC that Cannon's earlier rulings suggests "she bends over backwards a little bit more for the former president" but how that would play out in a trial "remains to be seen."
If Cannon steps aside, another Trump appointee could get the case.
"This isn't about who appointed the judge," former U.S. Attorney Joyce Vance told the network. "This is about how the public will view the case. And because of her decisions in the earlier matter, where the 11th Circuit didn't just reverse her but said she was out of bounds, that she lacked jurisdiction, they moved extraordinarily quickly to prevent her from allowing Trump to engage in delay."
Vance added that Cannon could influence numerous factors in the case, like rulings on pre-trial motions and the admissibility of evidence.
"The public won't have confidence whether she acquits or convicts," Vance warned.
But MSNBC legal analyst Lisa Rubin ultimately doesn't expect a fight over Cannon's assignment.
"Cannon got the case through random assignment—and absent a voluntary recusal (which I don't expect) or a motion to recuse by DOJ," Rubin wrote, "which would consume time DOJ likely doesn't want to waste, she'll keep it."
Read more
about Judge Aileen Cannon