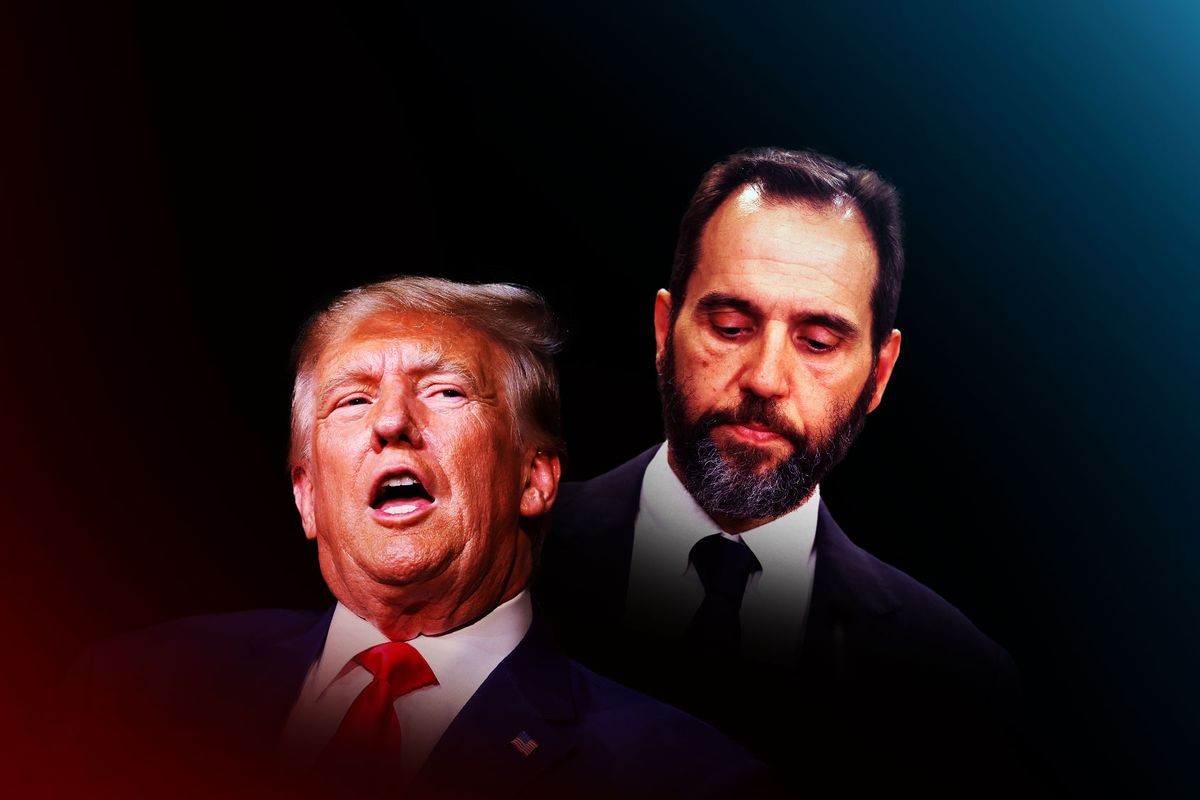 A former senior FBI agent said the Justice Department's trove of evidence revealed in a court filing on Thursday against Donald Trump likely alarmed the former president and his legal team, who had not been privy to the details of the investigation.
Though the court filing doesn't detail the specifics of the evidence, it does list the types of documents included: materials obtained through search warrants and subpoenas, transcripts of testimony taken before grand juries in Washington D.C. and Florida's southern district, witness interviews conducted through mid-May, essential documents and photographs, and copies of surveillance footage. The filing also revealed the existence of multiple recordings of Trump, in addition to the audio tape that had previously been reported. 
Former FBI agent Peter Strzok told MSNBC's Nicolle Wallace that, while the details won't come as a shock to law enforcement and government officials, they'll likely surprise someone who hasn't gone up against the Department of Justice.
"Keep in mind we don't have the slightest idea of the totality of information that Jack Smith and his team have assembled. Every court document, whether it's an affidavit for a search warrant, information on an indictment, does not contain and is not required to contain the totality of information that the government has in its possession," Strzok said. "So, it stands to reason, not only has there been a grand jury, but separate and apart from that grand jury, this investigation has been going on for some time."
"And if I'm on Trump's defense team, today and yesterday is a terrifying day because the volume of information they suddenly have in their lap, all these different people giving accounts of what happened through the course of the mishandling of the classified information is suddenly available to them," Strzok continued, speaking on the breadth of evidence special counsel Jack Smith sent to Trump. "And it is, I'm sure, an overwhelming amount of information. I'm sure we are going to see more of it certainly if we go to trial."
Strzok noted that the information outlined in the filing is only what is unclassified, meaning there's an array of classified documents prosecutors have not yet put through the "secret process" to decide whether and when to send it to Trump's team. 
Former U.S. attorney Joyce Vance called Smith's most recent filing "surprising." 
"Prosecutors usually wait until they receive a request for discovery from defendants before they begin to turn over information. So it looks to me like a display of strength by Smith," she told MNSBC. "He wants Trump to see precisely how good the case against him is."
---
Want a daily wrap-up of all the news and commentary Salon has to offer? Subscribe to our morning newsletter, Crash Course.
---
Vance added that there is no such thing as a "trial by surprise."
"Prosecutors are obligated to turn over the bulk of their evidence. There is a legitimate question of timing," she said. "What is unusual here is that they front loaded the turnover. But there is a lot to be said for putting on displays of strength of your case to a defendant. And to a defendant like Trump who never faced accountability before, this is going to lead to a real moment with his lawyers, where they will have to level with him about what he is facing, if he chooses to go ahead."
CNN legal analyst Elie Honig, a former federal prosecutor, said that Smith turning over the evidence this early in the process suggests "everyone's pushing, except for Donald Trump, for a quick trial."
"Prosecutors have begun to turn over vast amounts of discovery. They've said they're ready within 70 days. The judge has set a tentative trial date, which is unlikely to hold, for August," Honig said.
The "X factor" influencing the timeline is Trump himself," he added.
"He's the defendant," he said. "He's the one who has the right to file motions to — to prep. So two of the three necessary parties are on board. We'll see if Donald Trump goes along with that. We suspect he's going to want to slow things down."
Read more
about the Trump documents case