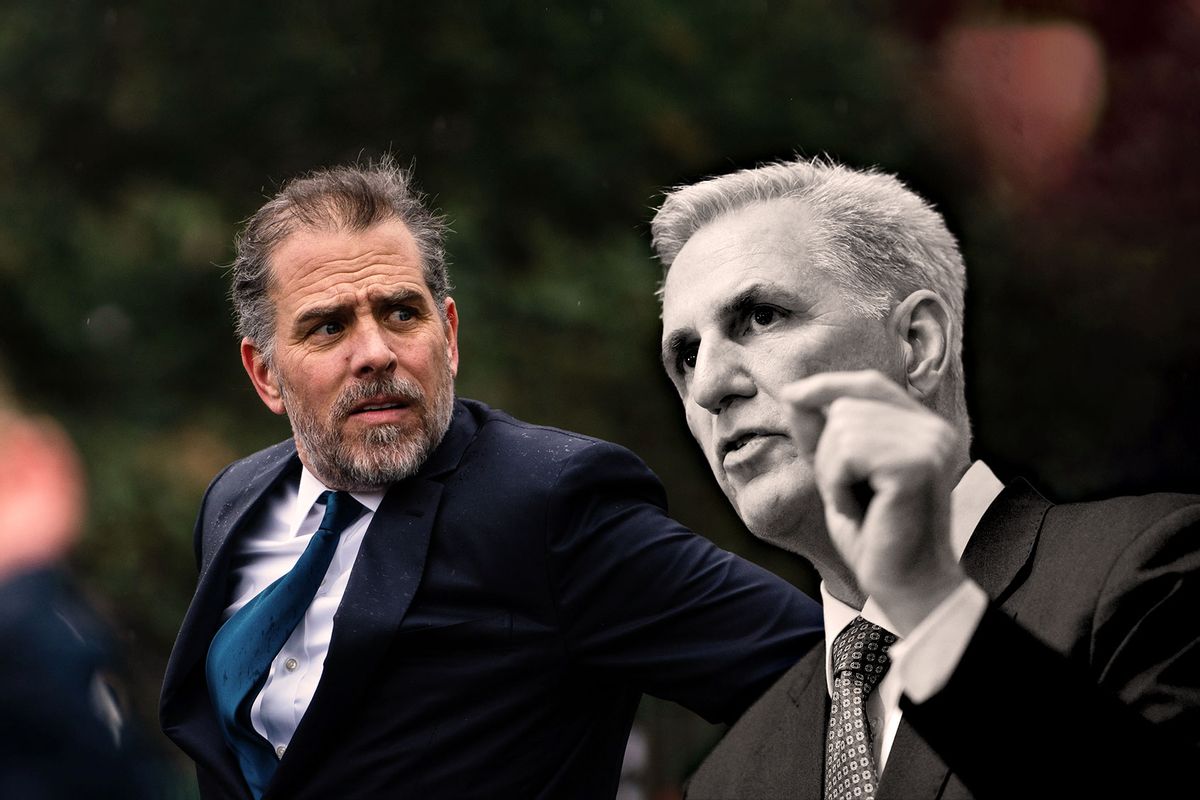 Congressional Republicans on Tuesday accused President Joe Biden of intervening to get a lighter penalty for his son, Hunter Biden, and vowed to escalate their investigation into the family after the younger Biden reached a plea deal with the Department of Justice, The New York Times reports.
Hunter Biden is expected to plead guilty to two misdemeanors for neglecting to pay taxes on time and could forgo prosecution over a separate gun charge. House Speaker Kevin McCarthy, R-Calif., slammed the deal while speaking to reporters at the Capitol, saying it "continues to show the two-tier system in America."
Like several other Republicans, McCarthy falsely compared Hunter Biden's criminal charges to the far worse charges against former President Donald Trump, who the Justice Department indicted earlier this month on 37 counts over his alleged efforts to illegally retain national security documents and obstruct the government's retrieval of them.
"If you are the president's leading political opponent, D.O.J. tries to literally put in you jail and give you prison time," Mr. McCarthy told reporters. "If you are the president's son, you get a sweetheart deal."
He added that the agreement should "enhance" House Republicans' investigation into the Bidens' alleged bribery and money laundering schemes.
Rep. James Comer, R-Ky., the chairman of the House Oversight Committee probing the president and his family, said in a statement that he would intensify the investigation and called Hunter Biden's charges a "slap on the wrist."
"We will not rest until the full extent of President Biden's involvement in the family's schemes are revealed," said Comer, who has failed to produce any evidence to back his claims against the president.
Sen. Rick Scott, R-Fla., pushed the narrative that the plea deal reflects a politicized Justice Department's unfair and unequal treatment toward Hunter Biden and Trump.
"A slap on the wrist for Hunter Biden while 'The Big Guy' continues to hunt down his top political opponent," he wrote on Twitter. "This doesn't show equal justice. It's a mockery of our legal system by a family that has no respect for our laws."
Sen. J.D. Vance, R-Ohio, who said he would block any Biden administration nominees to DOJ positions after Trump's indictment, said Hunter Biden's plea deal further supported his cause.
"This is exhibit 1,402 for why I'm holding Biden's DOJ nominees," he tweeted. "We have a two-tiered justice system in our country. It's a disgrace."
Democratic leaders and legal experts pushed back against the comparison, arguing that bringing charges against Hunter Biden proves that the Justice Department is anything but politically motivated against conservatives.
"This development reflects the Justice Department's continued institutional independence in following the evidence of actual crimes and enforcing the rule of law even in the face of constant criticism and heckling by my G.O.P. colleagues who think that the system of justice should only follow their partisan wishes," Rep. Jamie Raskin, D-Md., the House Oversight Committee's top Democrat, said in a statement.
"Important context for Hunter Biden deal: it was made by a Trump appointee who has said he had 100% authority to decide what to do ultimately on the matter," NYU Law professor and attorney Andrew Weissmann noted in a tweet, citing a letter Trump-appointed U.S. Attorney David Weiss sent to House Judiciary Chairman Jim Jordan, R-Ohio.
Other experts and justice reporters further countered the GOP leaders' claims of unfair prosecution online, arguing that the charges against Hunter Biden are unusual.
"A federal public defender with 30 years of experience who was working an addict-in-possession case in DC a few years back said he'd never seen prosecutors move forward on that charge," NBC News reporter Ryan J. Reilly tweeted, linking to his article titled "Legal experts say the charges against Hunter Biden are rarely brought."
"I spoke to multiple former federal prosecutors today. The only one who could recall charging the addict-in-possession statute was a prosecutor with decades of experience who remembered a lone case from many years ago," legal analyst and former federal prosecutor Renato Mariotti added.
---
Want a daily wrap-up of all the news and commentary Salon has to offer? Subscribe to our morning newsletter, Crash Course.
---
In an opinion for The Daily Beast, former federal prosecutor Shan Wu argued that Attorney General Merrick Garland was more "harsh" on Hunter Biden in an attempt to make the DOJ appear less politicized, arguing that any other person with a drug addiction "who was not the son of a sitting president would not have been prosecuted for these charges."
"But AG Merrick Garland—ever sensitive to accusations of DOJ looking political—kept the original prosecutor on the case to insulate DOJ from accusations of political partisanship, and refused to exercise what could easily be considered reasonable prosecutorial discretion in refusing to bring criminal charges for such minor offenses," Wu wrote. "As usual, Garland's efforts to avoid political backlash are doomed to failure."
Other legal experts cited reporting that Trump turned down his lawyers' pleas to strike a settlement with the DOJ before he was indicted.
"If he had listened to his lawyers, rather than to Tom Fitton, he likely could have avoided criminal charges entirely," attorney Bradley Moss tweeted, referring to Trump's adherence to the Judicial Watch activist's advice to keep documents and argue that they were his.
Others wondered why the DOJ had not looked at Trump's well-publicized tax issues.
"The biggest issue the Hunter plea underscores is where are the federal tax audits/cases with respect to Trump, the Trump Org and related businesses, and his former CFO Weisselberg— all of whom have reported tax issues," Weissmann wrote.
"Frankly, it seems a little ridiculous and more than a little hypocritical for GOP supporters of their favorite orange defendant to make a stink about prosecutors supposedly going light on, um, … *tax* *charges*," conservative lawyer and Trump critic George Conway added.
Read more
about the GOP's Biden crusade