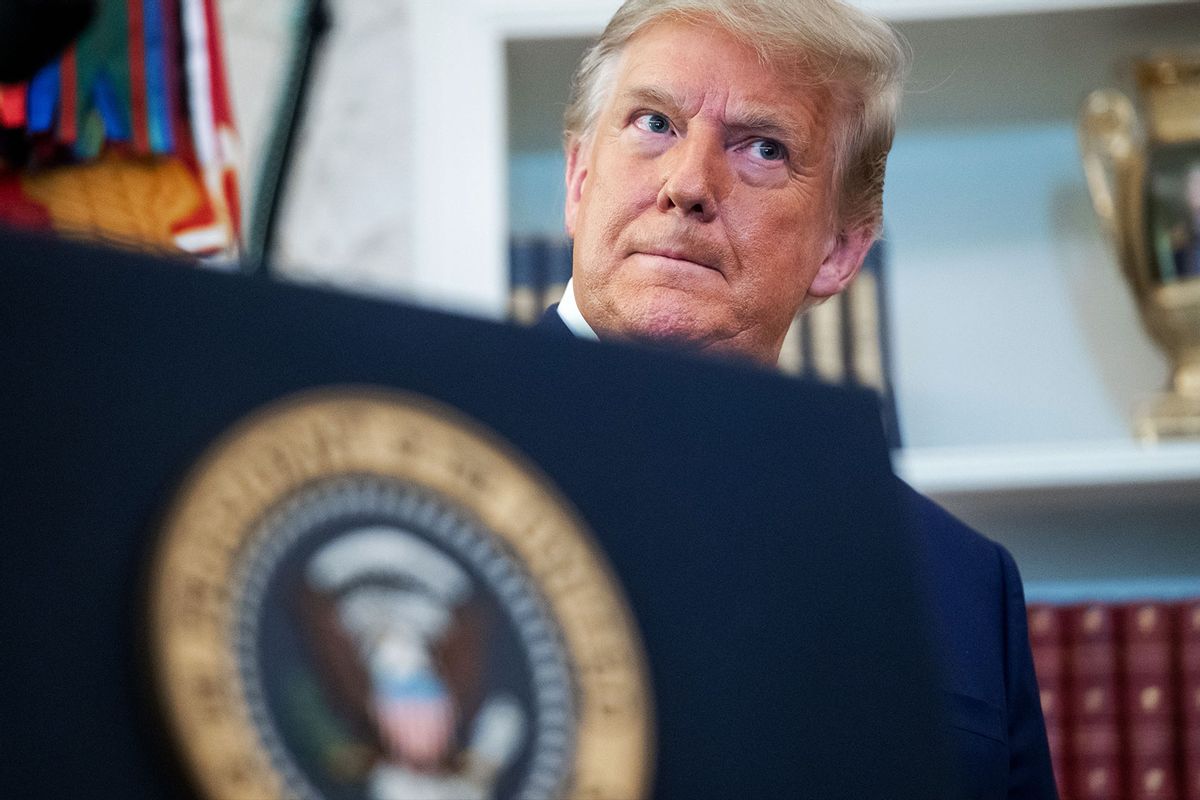 A Florida grand jury has heard testimony from a handful of witnesses since last month as part of the federal probe into former President Donald Trump's mishandling of classified documents after leaving office, The New York Times reported. 
The rationale behind the special counsel's shift to using a grand jury in southern Florida remains unclear since a jury based in Washington has listened to witness testimony for the last few months. 
"It is unclear why prosecutors might be presenting evidence before a grand jury in Florida," former U.S. Attorney Barb McQuade, a University of Michigan law professor, told Salon. "I can think of two possible reasons. One reason would be that they have decided that venue is most appropriate in Florida, and plan to file charges there. The other reason is that they are investigating a one-off charge in Florida against an individual defendant or two."
For example, if a Trump staffer lied to FBI agents in Florida, then Florida would be the appropriate venue for that narrow charge, she explained.
More than 20 members of Trump's Secret Service security team have either testified or been summoned by the Washington grand jury in recent months, people familiar with the investigation told the Times. 
A search warrant for Trump's Mar-a-Lago resort was approved by a court in South Florida at the beginning of the investigation. Since then, the Washington grand jury has been gathering evidence, but hasn't met since early May, according to CNN.
"If public reporting is true and the Washington grand jury has stopped hearing evidence, it is possible that the investigation before that grand jury is complete, and a final charging decision is ready to be made," Temidayo Aganga-Williams, partner at Selendy Gay Elsberg and former senior investigative counsel for the House Jan. 6 committee, told Salon. 
It is also possible that the special counsel started the investigation in Washington but, after conducting an extensive investigation, decided Florida is the more appropriate venue for all the charges, he added. 
Recent reporting indicates that Smith's investigation into Trump's mishandling of classified materials and efforts to obstruct their return appears to be nearing its final stages.
MSNBC legal analyst Chuck Rosenberg suspected that there may be a "parallel investigation" to the Washington case in Miami, potentially involving an associate of the former president.
"If somebody had committed acts only in Florida, even if it's connected to a broader scheme, the venue for that person, maybe somebody who followed Mr. Trump's instructions to obstruct justice or to conceal evidence would be properly charged and tried in that jurisdiction," Rosenberg told "Morning Joe." "Then you would be appropriate in Florida, so absolutely a possibility, remains to be seen."
He added while it remains unclear which case is moving quicker, "when defense attorneys request a meeting at the department to make a pitch that their client ought not to be charged, you know you're closer to the end than the beginning."
---
Want a daily wrap-up of all the news and commentary Salon has to offer? Subscribe to our morning newsletter, Crash Course.
---
Trump was still residing at Mar-a-Lago when he and his lawyers first began negotiating the return of government records to the National Archives in late 2021, the Times reported. It was also where the Archives discovered the first batch of classified documents, which the former president sent up to Washington from Florida.
Last August, the FBI obtained a search warrant after suspicions arose that not all classified documents had been turned over despite the former president being issued a subpoena. The FBI eventually carried out a search of Mar-a-Lago last August and found over 100 documents with classified markings at Trump's Mar-a-Lago residence.
"The answer must be speculative at this point, but one possibility is that obstruction charges lie better in Florida, where Mar-a-Lago is located, than in Washington DC, where the original grand jury is located," former federal prosecutor Kevin O'Brien told Salon. "The original grand jury apparently has not sat since mid-May."
Since the acts of obstruction that were recently uncovered all took place at Trump's residence, according to news reports, the more appropriate venue is in Florida, O'Brien added. 
But a Florida case may be the more challenging one for the DOJ to prosecute against Trump if the case went to trial since a South Florida jury may prove to be more sympathetic, Aganga-Williams pointed out.  
"By design, juries are intended to be representations of the communities they are drawn from," Aganga-Williams said. "South Florida has a different political climate than Washington, D.C. and a jury would likely reflect that. Similarly, President Trump may find favor with federal judges in southern Florida that he may not find with those in Washington, D.C."
Read more
about the Mar-a-Lago probe