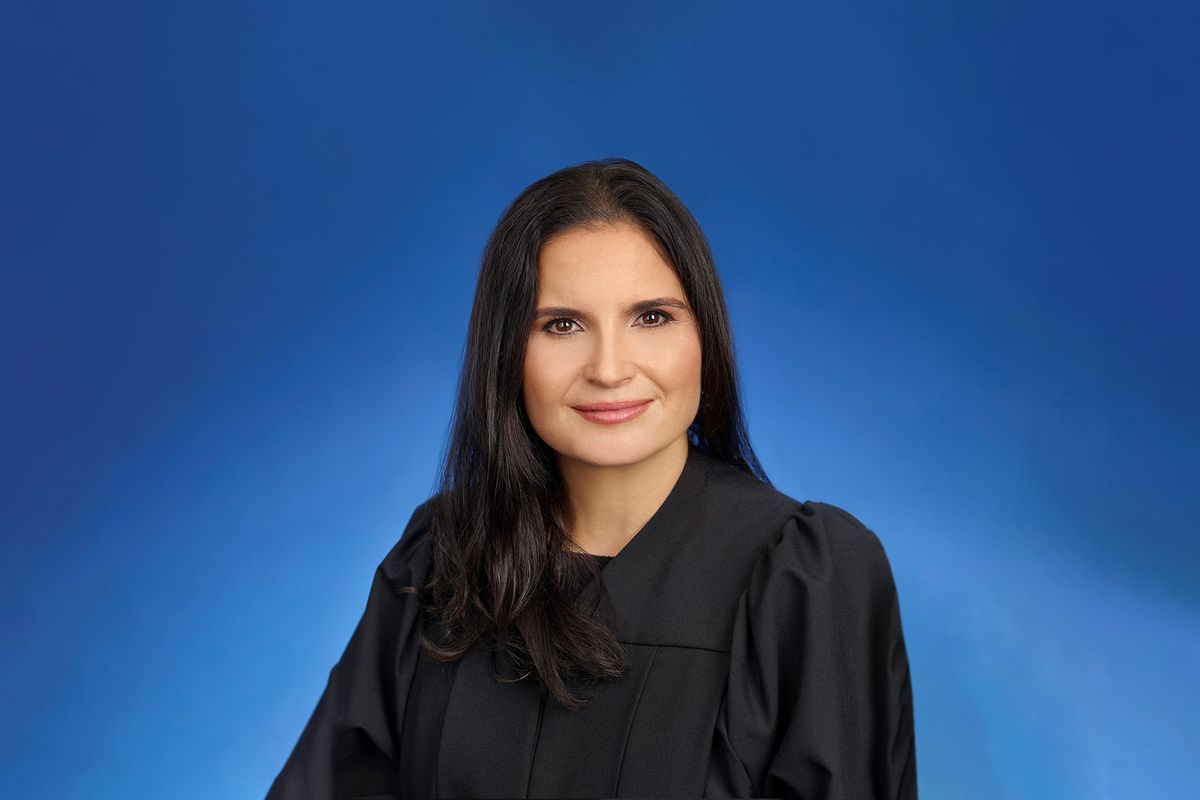 Trump-appointed U.S. District Court Judge Aileen Cannon, who is assigned to oversee the former president's upcoming trial in the Mar-a-Lago classified documents case, has a lack of criminal court experience that calls "into question her readiness to handle what is likely to be an extraordinarily complex and high-profile courtroom clash," The New York Times reports.
Cannon assumed her position in November 2020 shortly after Trump lost the presidential election. Before her lifetime appointment, she had not served as a judge and had very few opportunities to preside over federal criminal cases because the overwhelming majority of them — 98 percent — resolve with plea deals.
A Times analysis found that only four of the 224 criminal cases assigned to Cannon had gone to trial. The four cases, largely comprised of routine matters including assaulting a prosecutor, amounted to just 14 total days of trial.
The Miami Federal District Court judge has already faced much scrutiny regarding her role in this case, which has been magnified by widely held beliefs that she's biased in favor of Trump after she presided over the lawsuit he filed against the government for the court-approved search of his Mar-a-Lago property last year.
Cannon following the FBI's search of Mar-a-Lago last year barred the agency from using the secret documents seized from Trump's residence and ordered a special master to review them. A conservative appeals court overrode her intervention, ruling that she did not have the legal authority to do so.
"She's both an inexperienced judge and a judge who has previously indicated that she thinks the former president is subject to special rules so who knows what she will do with those issues?" Georgetown University criminal law professor and former federal prosecutor Julie O'Sullivan told the Times.
Several lawyers who have appeared before Cannon described her as "generally competent and straightforward" — as well as "someone who does not otherwise have a reputation of being unusually sympathetic to defendants." However, the sources, speaking anonymously to keep from publicly criticizing a judge before whom they may appear again, added that Cannon is "demonstrably inexperienced," particularly when unexpected issues arise or her actions are questioned.
Among several other potential challenges that could crop up during the trial — including debates over how classified materials can be used as evidence under the Classified Information Procedures Act — Cannon will likely have to navigate questions of potential jurors' bias toward or against the former president alongside Trump and his defense team's claims of prosecutorial misconduct.
"That has already been signaled in a lot of the media statements made by Trump and his lawyers," Samuel Buell, a former federal prosecutor and Duke University law professor, told the Times. "This is very typical, but she is a very inexperienced judge, so even if she weren't favorable to Trump, she might hear a lot of stuff and think she is hearing stuff that is unusual even though it's made all the time."
Cannon's four previous criminal cases involved accusations of possession of a gun by a felon, tax fraud, smuggling undocumented migrants, and assaulting a prosecutor, run-of-the-mill charges generating two to five trial days each.
The chief clerk of the court has said that, of the five active judges eligible for the assignment, Cannon's chances were slightly higher because half of her cases come from the West Palm Beach division where Trump's resort club is located. The clerk added that the court followed standard procedures in issuing the assignment.
A federal law that requires judges to recuse themselves if their "impartiality might reasonably be questioned" allows the special counsel, Jack Smith, to ask Cannon to remove herself from the case if she doesn't choose to do so herself beforehand. If she declines, he can ask an appeals court to order her to step away.
Though there is no sign that either party is considering that move, the proposed legal basis is murky as the appeals court last year found that she incorrectly employed jurisdiction law, not that she demonstrated bias. Judges have also presided over cases involving presidents who appointed them, including two of the appeals court judges in Trump's lawsuit who shut down Cannon's intervention.
Her inexperience is "reason enough for the chief judge to step in and reassign the case if Cannon declines to recuse," tweeted criminal defense lawyer Michael Bromwich, the former Justice Department inspector general. "This is a case whose handling will reflect—well or poorly—on the entire district court and all its 18 judges."
---
Want a daily wrap-up of all the news and commentary Salon has to offer? Subscribe to our morning newsletter, Crash Course.
---
Other legal experts, however, disagreed with Bromwich and The Times' assessments of Cannon's time served on the bench.
"That's just [not] how this works," Georgia State Law Prof. Anthony Michael Kreis wrote in response to Bromwich. "Cannon was nominated and confirmed. She is a federal judge. Her lack of experience is not grounds for recusal or reassignment. The precedent this would set is unworkable and begging for chaos. Folks need to stop and consider what they're inviting."
Former federal prosecutor Andrew Weissmann, who worked under special counsel Bob Mueller, told MSNBC that there are "no signs she's going to remove herself" but predicted that Smith could move to have her removed.
Weissmann predicted that Smith may wait for her first "erroneous ruling" given "that she's had two decisions reversed in scathing opinions by a conservative 11th Circuit Court, including, by the way, judges appointed by Donald Trump.
"They could wait for her to make another misstep, appeal that and in that appeal ask it be reassigned to a different judge," he said. "That's a route that, while it's not common, does occur. That would be the third time that she was reversed, not just in any case, but in this very investigation."
Read more
about the Trump indictment