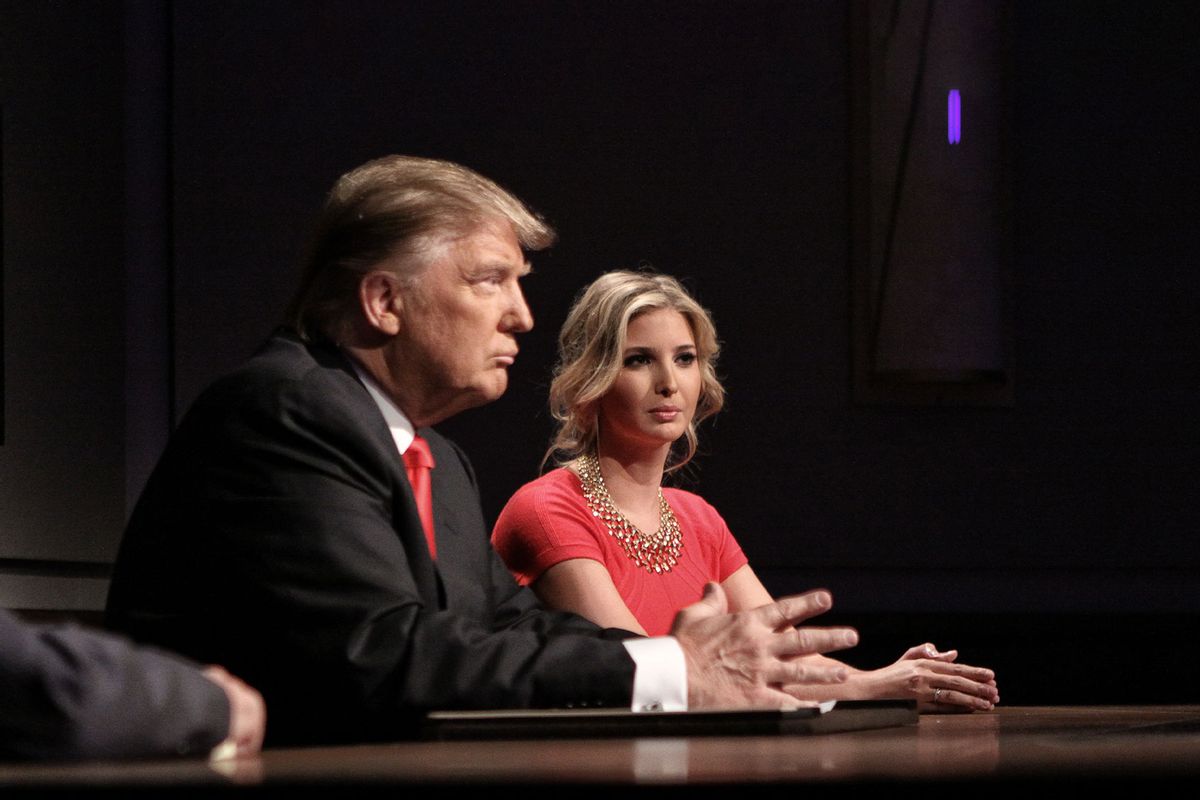 Former President Donald Trump committed acts of "naked sexism" and made lewd comments about women — including his own daughter — working in his administration, according to the former aide who in 2018 anonymously published a scathing op-ed about Trump in The New York Times.
Miles Taylor, a former chief of staff in the Department of Homeland Security, detailed several incidents of the former president's behavior in his forthcoming book "Blowback: A Warning to Save Democracy from the Next Trump," an excerpt of which was obtained by Newsweek.
"Aides said he talked about Ivanka Trump's breasts, her backside, and what it might be like to have sex with her, remarks that once led John Kelly to remind the president that Ivanka was his daughter," Taylor writes in the "Blowback."
"Afterward, Kelly retold that story to me in visible disgust. Trump, he said, was 'a very, very evil man," Taylor added.
The revelations in Taylor's book follow other former staffers telling media last month that they witnessed and reported Trump's inappropriate behavior toward women while at the White House. Last month a New York jury also found Trump liable of sexually abusing and defaming columnist E. Jean Carroll. Trump has denied any wrongdoing in the case and is appealing the jury's judgement.
"There still are quite a few female leaders from the Trump administration who have held their tongues about the unequal treatment they faced in the administration at best, and the absolute naked sexism they experienced with the hands of Donald Trump at worst," Taylor told Newsweek.
In the book, Taylor described witnessing Trump's "undisguised sexism" toward women of varying ranks in his administration, several instances occurring in meetings with the former president and former Secretary of Homeland Security Kirstjen Nielsen.
"When we were with him, Kirstjen did her best to ignore the president's inappropriate behavior," Taylor writes. "He called her 'sweetie' and 'honey,' and critiqued her makeup and outfits."
In those moments, he claims Nielsen would whisper to him. "Trust me, this is not a healthy workplace for women."
---
Want a daily wrap-up of all the news and commentary Salon has to offer? Subscribe to our morning newsletter, Crash Course.
---
He also recounted how Kellyanne Conway, who served as a senior counselor, once characterized Trump as a "misogynistic bully" following a meeting where he berated several female officials of his White House. A source familiar with the March 2019 meeting told Newsweek that Trump had snapped at Nielsen and other staffers about the border.
"That is a lie," another source, who works in Conway's office, told the outlet. "Despite trying to resuscitate the 15 minutes of fame, Miles Taylor should have stayed 'Anonymous.'"
In another instance, Taylor recalled how Trump commented on then-press secretary Sarah Huckabee Sanders' appearance when he mistakenly thought he saw her standing outside the room during an Oval Office meeting. 
"Whoops," Trump responded when he realized the person was one of his assistants, according to Taylor. "I was going to say, 'Man, Sarah, you've lost a lot of weight!'"
Trump has a documented history of making what many say are inappropriate comments about his daughter going as far back as the early-to-mid-2000s. In a 2006 appearance on the The View alongside Ivanka Trump, the former president said that "if Ivanka weren't my daughter, perhaps I'd be dating her. Isn't that terrible? How terrible? Is that terrible?"
"She's really something, and what a beauty, that one. If I weren't happily married and, ya know, her father…," he reportedly said in a September 2015 interview with Rolling Stone.
But Ivanka Trump defended her father in a 2016 interview with CBS News, asserting that he is "not a groper," has "total respect for women" and "believes ultimately in merit."
Taylor said he fears Trump, who is the current frontrunner for the GOP nomination, and his behavior could be much worse if elected to a second term.
"He's a pervert, he's difficult to deal with," the source told Newsweek. "This is still the same man and, incredibly, we're considering electing him to the presidency again."
Read more
about Trump and Ivanka