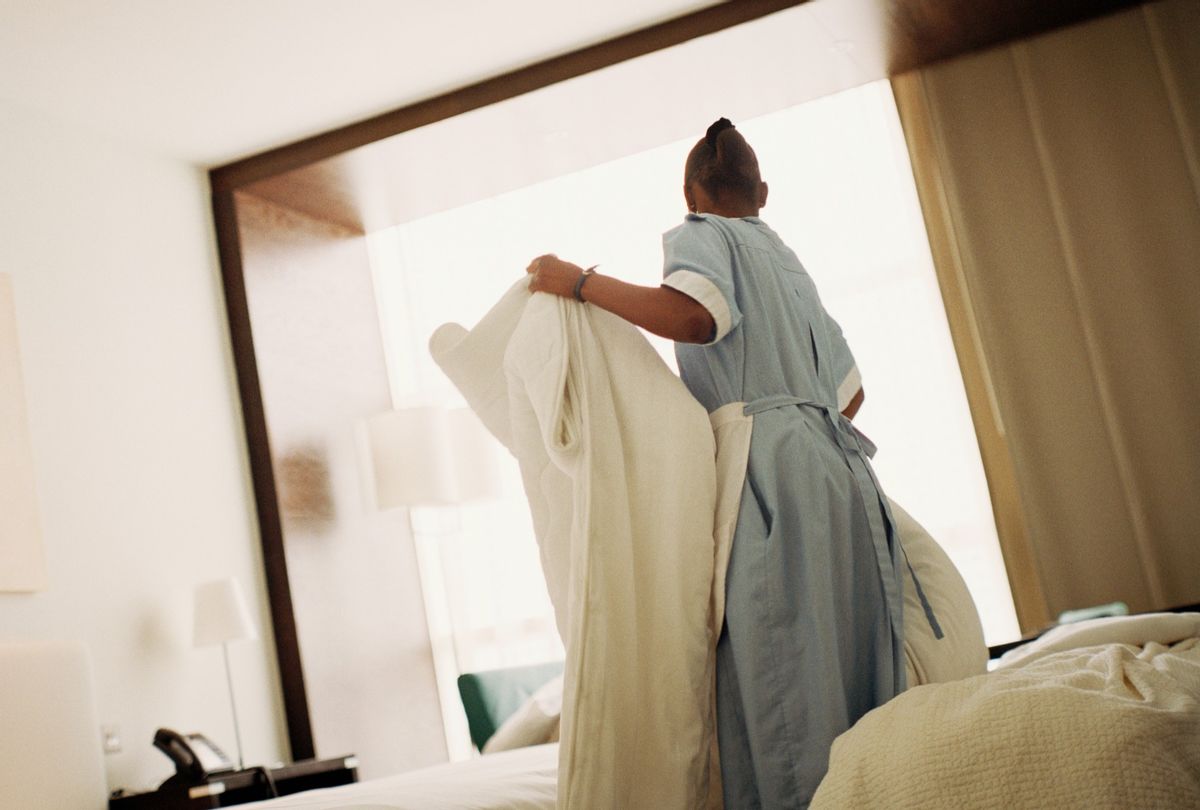 Undocumented women workers earn less than women overall and less than undocumented men, making them one of the lowest paid groups in the U.S., according to a new report.
The disparity is driven by both the kinds of jobs they have and the states in which they live, according to a new report by the Gender Equity Policy Institute (GEPI).
The study's most surprising finding, according to author Natalia Vega Varela, was that such gender pay gaps vary enormously between California, New York, Florida and Texas, the states with the largest populations of undocumented women. Supportive policies in California and New York may have raised pay for undocumented women in those states, she said.  
In New York, undocumented women make $22,000 more than in Texas and $21,000 more per year than in Florida, according to the report. Undocumented women in New York make $11,000 more than their counterparts in California.  
The minimum wage is $15.50 per hour in California and $14.20 in New York (outside New York City, Long Island and Westchester, where it is $15). It's $11 in Florida and $7.25 in Texas. 
Renata Bozzetto, Deputy Director of the Florida Immigrant Coalition, said the report shows that state policies can lower poverty rates among undocumented people. 
"When you see that an undocumented woman in Florida makes about 50% of what an undocumented woman makes in New York, that means there are possibilities," she said. "There can be more labor security."
 Researchers found that the types of jobs held by undocumented women are a key reason for the pay gap. Undocumented women hold lower-paying jobs than undocumented men. 
Undocumented men are 10 times more likely than undocumented women to be truck drivers and 13 times more likely to be construction workers. These jobs both pay more than jobs in which undocumented women are overrepresented, such as housekeeping. Even when working the same jobs, undocumented women are paid less than undocumented men, according to the study.
The author of the report, called "Double Disadvantage," said it is one of the first to examine the financial plight of undocumented women as separate from the plight of undocumented men in the United States.
Some 21% of undocumented women live below the federal poverty line, making less than $30,000 per year for a family of four. The poverty rate for all women in the United States is around 14%. 
Nearly half of the 5 million undocumented women in the U.S. are mothers, raising another 5 million children who are American citizens. 
Approximately 66% of undocumented women are Latina, 18% are Asian, 8% are white and 6% are Black. 
Diana Ramos, a Los Angeles immigrant rights advocate, said many undocumented women of retirement age do not have access to Social Security payments.
"Some of them are grandmothers who continue to labor because they don't have access to a Social Security number," said Ramos, who is the the deputy director for organizing at the Coalition for Humane Immigrant Rights of Los Angeles (CHIRLA).
 The report noted that in New York and California, undocumented women benefit from higher minimum wages, stronger union protections and social programs for noncitizens.
According to David Dyssegaard Kallick, director of the New York-based Immigration Research Initiative, social policies targeted at both men and women will, counterintuitively, always help close pay gaps between men and women.
"If you set a higher [wage] standard, women are going to benefit the most because they were the ones making the least," Kallick explained. 
In Texas, undocumented women make 74 cents per dollar paid to undocumented men. In Florida, they make 80 cents on the dollar paid to their male counterparts. 
In California, undocumented women make 87 cents on the dollar compared to undocumented men.
But in New York, undocumented women earn nine cents more on each dollar paid to undocumented men.
Both Texas and Florida are "right-to-work" states. Right-to-work laws allow workers in a company with a union contract to avoid joining the union or paying union dues, reducing union membership and revenue.
In 2015, the Economic Policy Institute found that wages in right-to-work states were 3.1% lower than in states without the laws (after accounting for cost of living).
In California and New York, where state health coverage has been made available to some undocumented people, around six in 10 undocumented women have health care, GEPI found. (In 2024, California will offer its Medicaid program, called Medi-Cal, to all undocumented workers below a certain income level.) Coverage rates lag in Texas, where just over a third of undocumented women have health insurance. Over half of undocumented women in Florida are insured. 
Diana Ramos of CHIRLA said she has seen access to health care impact the lives of undocumented workers. Hotel maids and street vendors who work with her organization have received preventative care and eyeglasses through the Medi-Cal expansion. 
Ramos said her mother, an undocumented immigrant, died of cancer at age 64. Her mother died in 2021, before California expanded Medi-Cal to all eligible adults over 50, and did not visit a doctor for preventative care. When she went to an emergency room because of pain, doctors found cancer too advanced to halt, Ramos said. 
"I just feel like if we had had these programs earlier, perhaps some of our folks would still be there with us," Ramos said. 
Much has changed in California since voters approved Proposition 187 in 1994, which prevented undocumented people from accessing state services, including education and nonemergency health care, Ramos said. 
Robust organizing of Latino immigrants has transformed the policy landscape to bolster social services for immigrants since then, she added. The influence of Latinos grew in California as they came to outnumber whites in 2014. 
In 2013, then-Gov. Jerry Brown signed two landmark laws for immigrants, granting state drivers' licenses to the undocumented and extending overtime pay to domestic workers. In 2016, lawmakers raised the minimum wage to what would eventually become $15.00 an hour. In 2018, they decriminalized street vending. 
The policies have borne fruit: Incomes for undocumented women in California are up 10% over 2019, according to the GEPI report. Poverty rates dropped 5% from 2015 to 2021.
States such as Florida and Texas today may resemble California in 1994. Texas Gov. Greg Abbott wants to deny undocumented children access to public education. On May 10, Florida Governor Ron DeSantis signed a law that prohibits local governments from issuing IDs to undocumented immigrants. 
A first step toward improving the lives of undocumented women is recognizing them as their own social group, said GEPI founder and president Nancy Cohen.
"They have been largely invisible in our nation's immigration debate," said Cohen. "[Americans] really take men as a default and don't look at the different experiences undocumented women have in their work, wages and poverty levels."