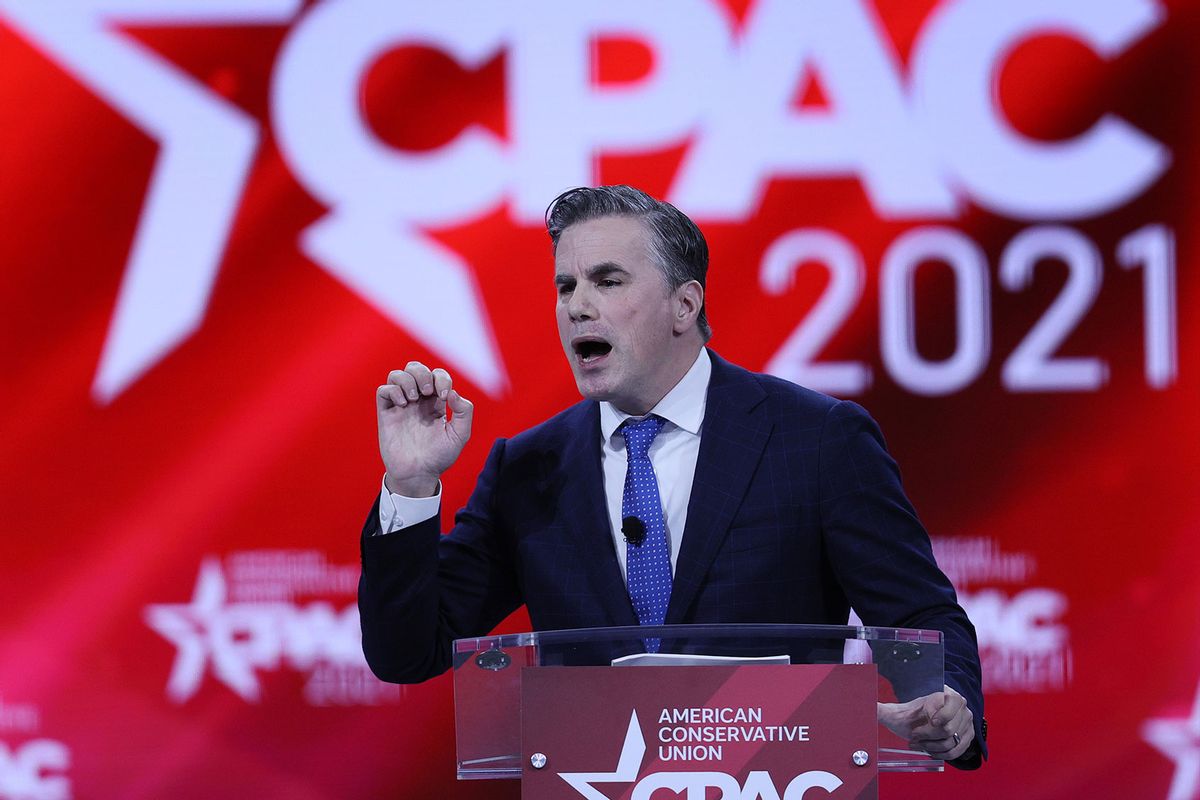 Former President Donald Trump, who is charged with stashing national security secrets at Mar-a-Lago and obstructing government efforts to retrieve them, relied on advice from the leader of the conservative organization Judicial Watch, who convinced Trump that he had the legal right to retain the documents and encouraged him to fight against the Justice Department, The Washington Post reported. 
Trump's lawyers repeatedly urged him to return the document remaining at his residence but the former president instead turned to Tom Fitton, who doesn't have a law degree but has remained vocal about Trump having the right to keep the documents he took with him at the end of his presidency.
"If Trump had simply given these documents back, when he was first asked, there would have been no jury subpoena, there would have been no search warrant, and there would have been no criminal charges," former U.S. Attorney Barb McQuade, a University of Michigan law professor, told Salon. "In fact, in each of those steps of the investigation, if Trump had returned  the documents, there likely would not have been a criminal prosecution."
Fitton reportedly argued that the records belonged to Trump, pointing to a 2012 court case involving his organization which he claimed granted the former President the authority to exercise control over the records from his own term in office.
Trump has echoed his claims referring to a ruling in which the judge said it was okay for President Bill Clinton to keep audiotapes of his conversations with historian Taylor Branch during Clinton's White House tenure. 
"Under the Presidential Records Act — which is civil, not criminal — I had every right to have these documents," Trump said in a speech Tuesday night. "The crucial legal precedent is laid out in the most important case ever on this subject, known as the Clinton socks case."
But the key difference between the two comparisons is that Clinton's recordings were from his own interviews with a journalist and not presidential records like Trump's, legal experts say. 
"The Presidential Records Act distinguishes between 'presidential records' and 'personal records' and required President Trump to preserve White House documents because those are the property of the U.S government," Temidayo Aganga-Williams, partner at Selendy Gay Elsberg and former senior investigative counsel for the House Jan. 6 committee, told Salon. 
Even as Trump's advisers urged him to cooperate with investigators in their efforts to retrieve the classified documents he had taken when he departed from the White House, Trump brought up Fitton's name whenever he refused to comply with their advice, sources told The Post. 
"Trump all but dared DOJ to indict him," McQuade said. "In order to be even-handed in applying the law to offenders who willfully abuse their power to handle classified information, DOJ really had no choice but to indict Trump."
Despite multiple opportunities to avoid criminal charges, Trump consistently refused to return the presidential documents requested by the National Archives since February 2021, sources familiar with the case told The Post. Trump was not charged for the documents he did return voluntarily.
"The national security documents that President Trump is criminally charged with keeping at Mar-a-Lago and refusing to return were always government records and could not be considered personal records in any reasonable reading of federal law," Aganga-Williams said.
In February, after the National Archives acknowledged retrieving 15 boxes of presidential records from Trump, he began receiving calls from Fitton telling him it was a mistake to give the records to the Archives, CNN reported. 
Fitton reportedly told Trump's team that they should never have let the Archives "strong-arm" him into returning them. He then suggested to Trump that if the Archives came back, he should not give up any additional records.
One source told CNN that Trump requested Fitton brief his attorneys on the legal argument. 
Even as Trump publicly maintained that he was fully cooperating with government officials, his behind-the-scenes communication with Fitton reveals a different story.
Contrary to Fitton's advice to "completely stonewall the government," Trump did hand over some material in June after a meeting between his lawyers and federal investigators at Mar-a-Lago, according to CNN. 
However, investigators later found evidence suggesting that not all classified material had been returned, despite the former president being issued a subpoena. The FBI eventually carried out a search of Mar-a-Lago last August and found over 100 documents with classified markings at Trump's Mar-a-Lago residence.
---
Want a daily wrap-up of all the news and commentary Salon has to offer? Subscribe to our morning newsletter, Crash Course.
---
Trump intentionally deceived his own advisers regarding the contents of the boxes, telling them they only contained newspaper clippings and clothes, seven Trump advisers told The Post. He consistently refused to return the documents even after receiving warnings from some of his most loyal advisers about the potential risks involved.
His actions have mirrored the advice of Fitton – a staunch election denier who promoted conspiracy theories about Dominion Voting Systems and Smartmatic after the 2020 election, according to Media Matters. 
Fitton entered Trump's inner circle after he caught the former president's attention, who viewed him as one of the most effective critics of the Mueller probe from his frequent appearances on Fox News, Politico reported. 
His media appearances are also similar to Trump's. In one interview with Politico, Fitton discussed what he perceived as "abuses" of power by the Justice Department and the FBI, labeled the Mueller investigation as "unconstitutional" and asserted that there was sufficient evidence to arrest and prosecute Hillary Clinton.
He has built a following by appearing on right-wing networks and filing lawsuits against the federal government alleging bureaucratic corruption. 
During one interview, Fitton himself corrected Fox host Jeanine Pirro after she referred to him as a lawyer, and then responded: "you should be, you get more out of courts than anyone I know."
But Fitton's limited legal expertise hasn't stopped the former president from seeking advice from him. It's only complicated the role Trump's attorneys play in representing him.
It's also left Trump scrambling to find legal representation a day before his court appearance after two of his top lawyers stepped down just hours after a Florida grand jury voted to charge him. 
Most recently though, Fitton's advice appears to have led Trump to being charged with 37 counts including alleged violations of the Espionage Act, obstruction and false statements.
Read more
about Trump's indictment