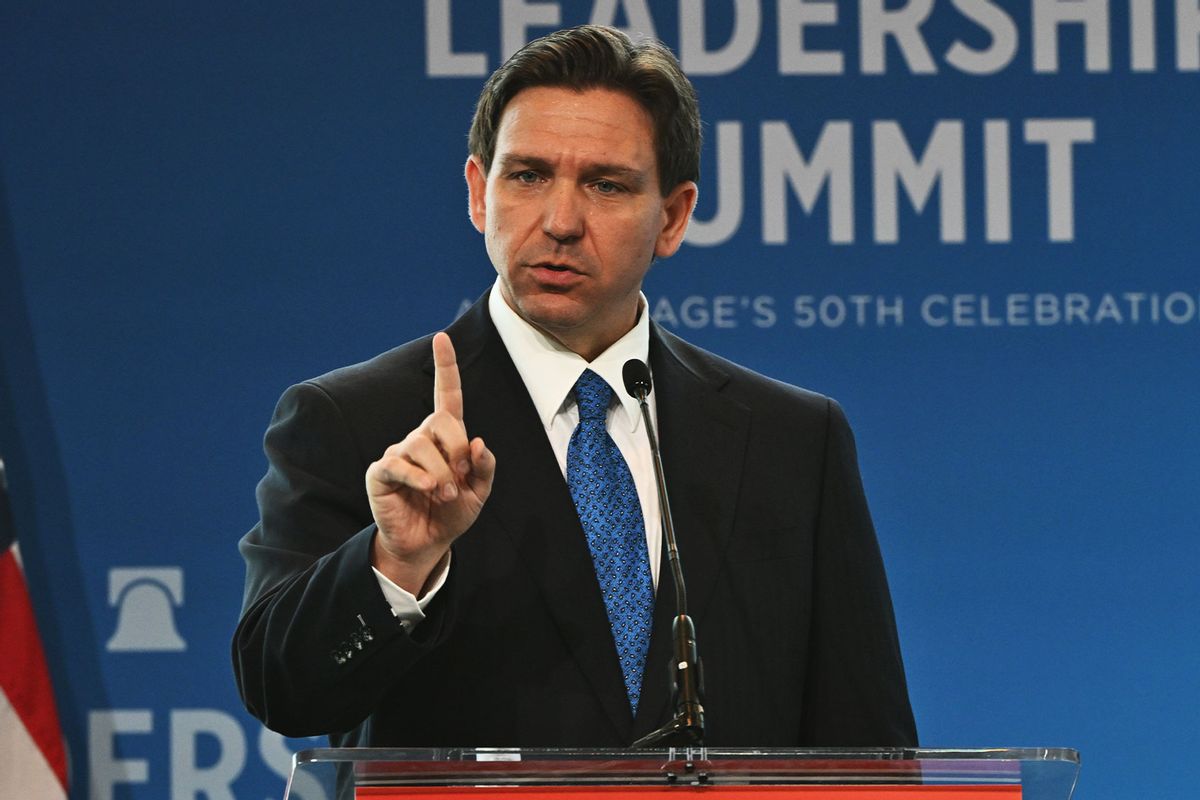 Far right Florida Gov. Ron DeSantis has unveiled a list of four federal agencies he would completely eliminate if he were elected president, putting on display his wish to deeply destabilize the country's social welfare system in an interview on Fox News on Wednesday.
When asked if he would shutter any federal agencies, DeSantis said that "we would do Education, we would do Commerce, we'd do Energy, and we would do IRS."
If he couldn't get Congress to agree with that radical idea, DeSantis indignantly said that he would "use those agencies to push back against woke ideology and against the leftism that we see creeping into all institutions of American life," repeating the frightening viewpoint that leftism — which hardly exists in the current system of governance — is something to be combated.
Calling for the elimination of federal agencies is a longtime messaging tactic of right-wingers wishing to demonstrate their libertarian, "small government" bona fides while proposing a plan that is extremely unlikely to come to fruition — especially considering that it's not actually "big" government that Republicans hate, but rather a government that takes steps to enrich and support the lives of its citizens.
In the past, conservatives have viewed the Department of Commerce — with its stated goal of promoting economic growth and employment — as a roadblock to the so-called free market. Republicans have been trying to abolish the IRS for various reasons; with the majority of government revenue coming from taxes, this would essentially destabilize a huge swath of the government and, thus, the country.
It's unclear what Republicans think the Energy Department does, as it seems to be a popular position among conservatives that the agency mainly focuses on curtailing oil and gas. This simply isn't true: Nuclear energy and nuclear weapon management take up nearly half of the energy's budget, while the agency also oversees oil and gas in order to manage things like the Strategic Petroleum Reserve.
Nevertheless, conservatives want to destroy the agency, despite not knowing what it does. The latter assertion is not an exaggeration. During his 2012 presidential run, former Texas Republican Gov. Rick Perry said that he wanted to eliminate the Energy Department — but, as The New York Times detailed, Perry wouldn't actually learn what the agency did until 2017, when Donald Trump tapped him to run it.
And finally, the Education Department is in Republicans' crosshairs as part of their attack on public education, a system that, as a very small but crucial part of its curriculum, teaches children the history of racism and other forms of oppression in the U.S. DeSantis hatefully said that he would "reverse all the transgender sports stuff" and "make sure we have an accreditation system for higher ed" — perhaps meaning to say that he would abolish the current system of accreditation, which he views as a roadblock to implementing his radical right-wing policies.
Notably excluded from DeSantis's wishlist are agencies like the Department of Homeland Security or the Department of Defense — agencies that fuel militarization and, in many ways, help to advance fascism in the U.S.