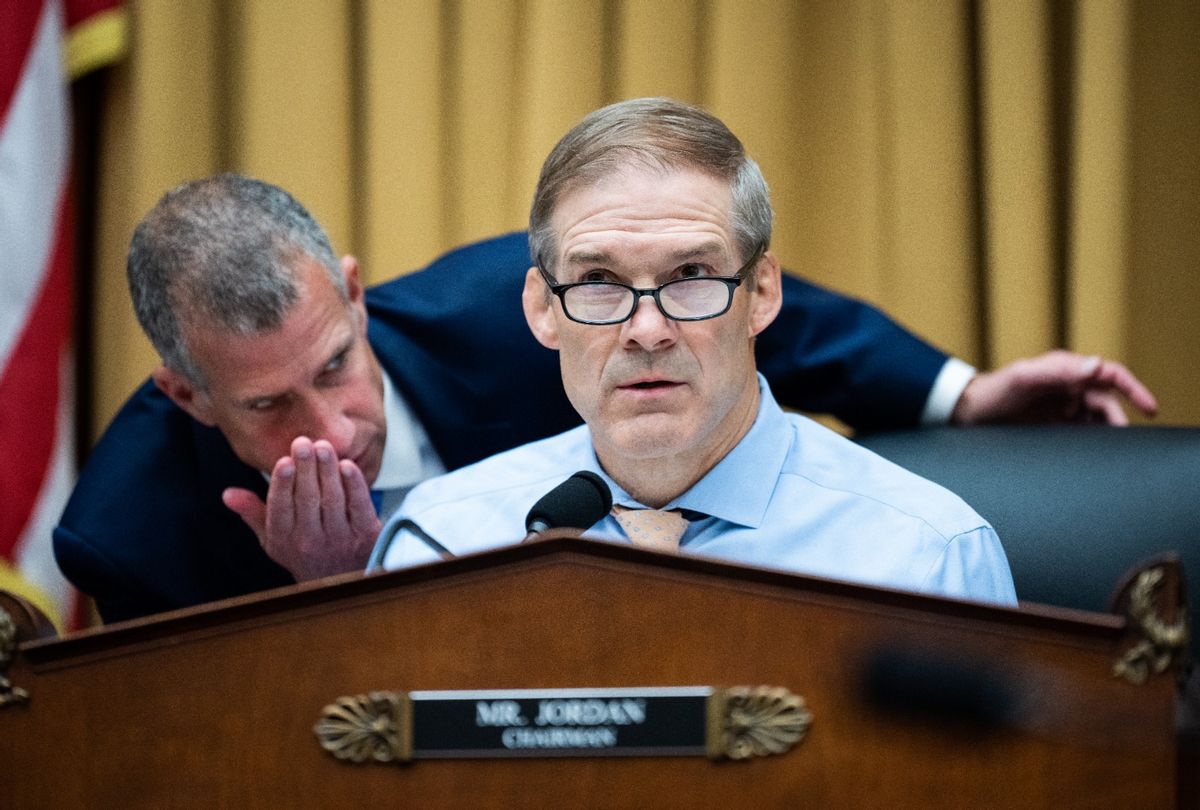 Akey Republican witness in a recent House subcommittee hearing may have lied to Congress about his ties to far right propaganda group Project Veritas in a recent testimony dubiously accusing the Federal Bureau of Investigation (FBI) of being biased against the right, potentially constituting a breach of federal law, Democrats are saying.
Republicans had presented suspended FBI agent Garret O'Boyle as a whistleblower in their House Weaponization of the Federal Government subcommittee hearing last month, inviting O'Boyle to testify alongside three other FBI agents who have also been suspended — the latter group having been suspended by the agency for their alleged participation in or remarks about the January 6, 2021, attack on the U.S. Capitol.
O'Boyle had told the committee that he hasn't been in touch with any form of media and that he never provided anyone outside of the agency with sensitive information before his suspension.
However, Democrats have obtained testimony from the FBI's executive assistant director for human resources that directly contradicts those claims, with documents to back up the testimony. The Democrats say that the testimony shows that O'Boyle was indeed leaking sensitive FBI information — and that, as previously unreported, he was leaking it to Project Veritas, an organization dedicated to disguising right-wing propaganda as journalism and which has ties to far right militia groups.
In the testimony, the FBI's Jennifer Moore points out that Project Veritas posted an interview online last year with an anonymous "FBI whistleblower," and says that the agency was able to identify that person as O'Boyle. Moore said that some of the information that O'Boyle was allegedly leaking was part of ongoing investigations and that he was still accessing files that he didn't have access to when the FBI began looking into the leak.
In a letter sent to Attorney General Merrick Garland, top Judiciary and Weaponization Democrats Rep. Jerry Nadler, D-N.Y., and Virginia Islands Del. Stacey Plaskett ask Garland to further investigate the matter, detail multiple times that O'Boyle appeared to have lied to the committee, and urge him to investigate whether O'Boyle lied to Congress, which is illegal, and committed perjury under oath. The letter was first reported on by NBC.
Republicans characterized Democrats' letter as a "frivolous attack" on O'Boyle, claiming that Democrats are "desperate to distract from Justice Department wrongdoing."
However, if Moore's testimony is true, it reveals yet another instance of federal law enforcement officers who have ties to far right groups — and it shows that Republicans aren't afraid to give these individuals a national platform.
O'Boyle is already facing scrutiny over the same testimony for allegedly receiving financial aid from Kash Patel, a former top official in multiple roles under the Trump administration.
In May, O'Boyle said that, if he's receiving financial aid from Patel, he isn't "aware of" it — but he had previously disclosed that his legal fees were being paid by a nonprofit run by Patel during an interview with the subcommittee in February. Subcommittee Chair Jim Jordan, R-Ohio, has defended O'Boyle, saying the Democrats "distorted the facts" on O'Boyle's testimony. Government watchdogs have said that his connection to Patel "is already enough to call any of his testimony into question."