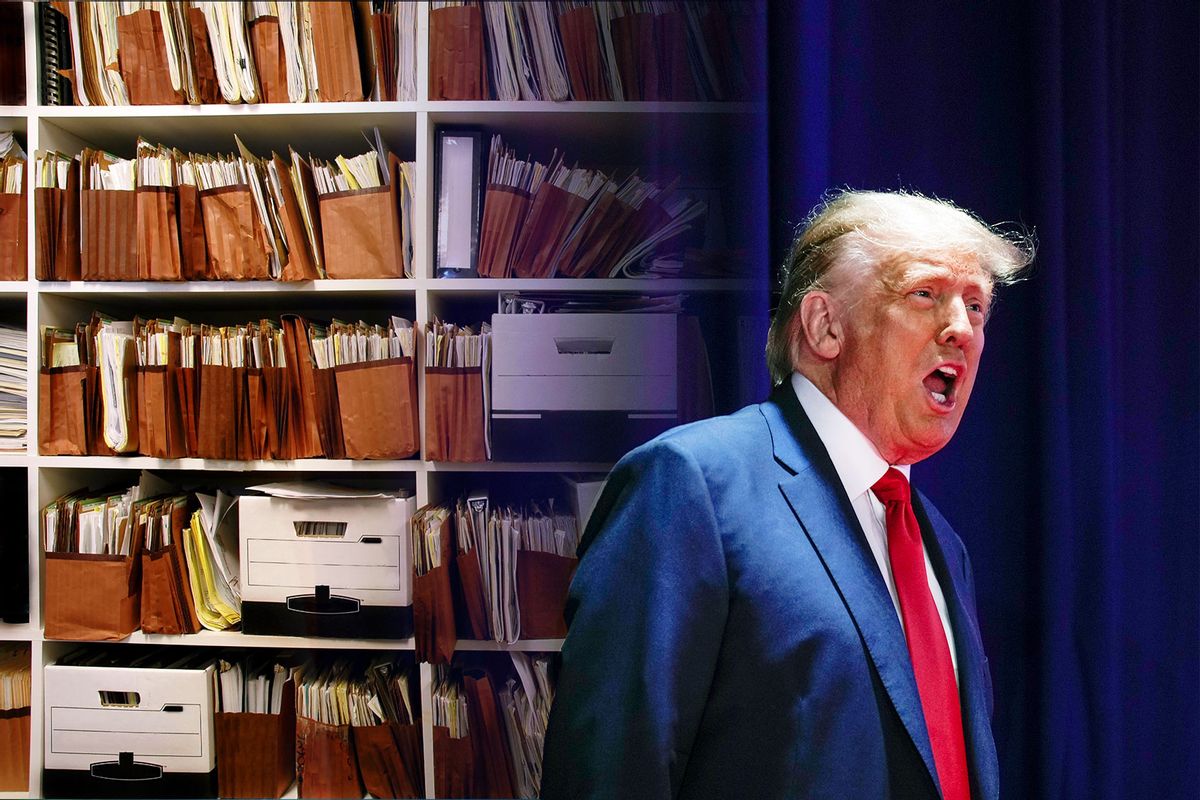 Former President Donald Trump last month demanded the return of "my documents" and "my boxes" — even asking his lawyers if they could reclaim them from the federal government — after they informed him that he would soon be indicted, a source with direct knowledge of the matter and two other people briefed on it told Rolling Stone.
The request came in one of several similar conversations the former president has had in recent months, the sources said. In another exchange, Trump asserted that those materials belong to "me" and claimed that it was "illegal" for him to no longer have access to the documents seized in the FBI search of Mar-a-Lago last August. He has also asked about what other legal tactics or court filings his team could employ to get them back that they may not have thought of.
According to the source with direct knowledge, Trump has said that he will get the seized materials back in 2025 because he believes he will be re-elected and have unchallenged access to them and a host of other government information again.
Trump was indicted on 37 charges, including willful retention of national security documents and obstruction of justice, earlier this month in special counsel Jack Smith's investigation into his handling of classified documents after leaving office. The former president and his campaign have argued that the Presidential Records Act, which was passed after the Watergate scandal to define the scope of and limit claims to official materials after leaving office, actually exonerates him of any wrongdoing.
Several attorneys in Trump's wheelhouse have told him that, in their opinions, he is entitled to the return of documents under the PRA, namely 44 USC 2205(3), which states that "Presidential records of a former President shall be available to such former President or the former President's designated representative," two sources familiar with the matter told Rolling Stone. But many legal experts have disputed that argument. 
"Whatever one might say about his Presidential Records Act argument, there's no argument that it immunizes him from criminal prosecution under the Espionage Act," attorney Brian Greer, who served in the CIA's office of general counsel from 2010 to 2018, told Rolling Stone. He added that the law also doesn't permit former presidents to defy a lawful subpoena or obstruct government efforts to retrieve materials, as the indictment accuses Trump of doing.
Former U.S. attorney and University of Michigan law professor Barb McQuade also previously told Salon that "the records Trump is alleged to have illegally retained are agency records, such as records of the CIA, NSA, and Department of Defense, not presidential records," adding that they're covered by the Espionage Act "because of their content — information about the national defense, which information could be used to the injury of the United States or advantage of a foreign nation."
Despite disagreements among his own legal advisers, Trump has continued to tout his claims about the PRA.
"Whatever documents a president decides to take with him, he has the absolute right to take them," he told the audience of the Faith and Freedom Coalition conference last week. "He has the absolute right to keep them, or he can give them back [to the government], if he wants…That's the law, and it couldn't be more clear."
He also repeated them during an interview with Fox News' Bret Baier last week, telling the host that he has "every right to have those boxes" that the FBI seized. "This is purely a Presidential Records Act. This is not a criminal thing," Trump added.
On Wednesday afternoon, his campaign also sent out an email blast to the media Wednesday that read, "TRUMP IS RIGHT! The Presidential Records Act Allows Presidents To Take Whatever Documents They Want."
Conservative legal nonprofit Judicial Watch, which is closely aligned with Trump, published an op-ed in the Wall Street Journal, arguing that the classified materials Trump had taken were not "agency records" as outlined by the PRA, and that "his decision to maintain the records can't be second-guessed."
---
Want a daily wrap-up of all the news and commentary Salon has to offer? Subscribe to our morning newsletter, Crash Course.
---
A Trump spokesperson asked to comment on Trump's desire to have "my documents" back did not disclose any specifics, but instead reiterated the former president's line: "This is a Presidential Records Act issue, and it's ridiculous that the government is trying this under the Espionage Act."
Trump's revitalized campaign to regain access to the documents follows an earlier attempt to do so through a Rule 41 motion, which allows those "aggrieved by an unlawful search and seizure of property" to request that a judge return the property. 
Though Judge Aileen Cannon granted Trump attorneys' request to appoint a special master to review the evidence seized in the FBI's court-ordered search, the third-party review was ultimately smacked down by a federal appeals court on the grounds that the move would "defy our nation's foundational principle that our law applies 'to all, without regard to numbers, wealth or rank.'"
Read more
about the Trump indictment