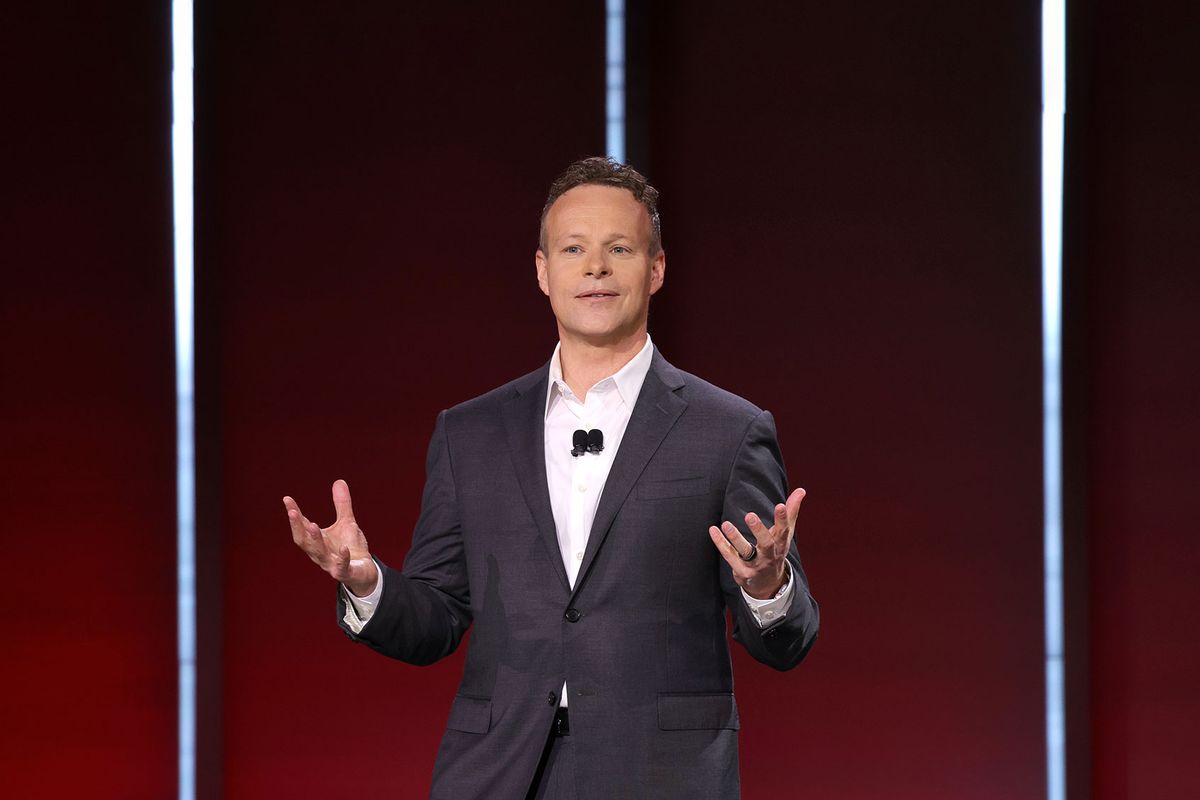 Chris Licht, the chairman and chief executive of CNN for the last year, announced on Wednesday that he would be departing the company after early morning reports that he had been ousted.
The news of his resignation was confirmed during CNN's Wednesday editorial meeting from David Zaslav, the CEO of parent company Warner Bros who Licht has worked closely with during his attempt to revitalize the network.
"I met with Chris and he will be leaving CNN," he told staff on the call. "We're in the process of conducting a wide search, internally and externally, for a new leader."
"For a number of reasons things didn't work out and that's unfortunate," Zaslav added, according to CNN. "It's really unfortunate. And ultimately that's on me. And I take full responsibility for that."
After praising Licht's "amazing career," Zaslav told staff that Amy Entelis, Virginia Moseley and Eric Sherling, the network's executive vice presidents of talent and content development, editorial and U.S. programming, respectively, will lead the company in the interim alongside COO David Leavy as they search for a replacement.
Licht's departure came just days after the release of a damning 15,000-word profile in The Atlantic last week and followed a year of marked lows for the company, including historically low ratings, layoffs and meager employee morale.
Licht, who has complained that CNN reporters were too opinionated during Donald Trump's presidency, told The Atlantic's Tim Alberta that he deemed CNN's past coverage of COVID-19 excessive and claimed that the network deviated from its promise to deliver "absolute truth" amid a host of other centrist views.
In response to the profile, CNN senior media reporter Oliver Darcy, who criticized Licht over his handling of the network's Trump supporter-riddled town hall with the former president last month, questioned the former CEO's leadership ability in his Monday newsletter. He called the magazine article "embarrassing" and argued that it "called into serious question Licht's judgment, his ability to lead the network's staff, and his overall professional capabilities as CNN's top executive."
Licht spoke to staff about the article during Monday's editorial call. He apologized for distracting them from their work and vowed to regain their trust, The Huffington Post reports. But, according to Darcy, the damage to the team and the company had already been done despite his efforts.
"There is one near-universal sentiment, however, that has been communicated to me: Licht has lost the room," Darcy wrote.
"The lesson to learn from the last year, if you're a news executive, is that no one wants the half-way point between what 'people are saying' and the truth," NBC News senior reporter Ben Collins tweeted. "They just want the truth, even if it's temporarily politically inconvenient to call out one side more than the other."
---
Want a daily wrap-up of all the news and commentary Salon has to offer? Subscribe to our morning newsletter, Crash Course.
---
"Propping up liars is not only an abdication of your duty as a journalist, it's also bad for business! That should be a very nice lesson we all learned here. I do hope we don't forget it as an industry," he continued.
"Chris Licht was shaping CNN's programming toward the ideological vision preferred by David Zaslav and John Malone. There's little reason to expect a course correction following his defenestration," Matthew Gertz, senior fellow for progressive watchdog Media Matters for America added.
In a Tuesday evening opinion for The Washington Post, columnist Perry Bacon, Jr. analyzed several of Licht's other comments in the profile — including skepticism over defunding the police, trans-inclusive language regarding pregnancy and implications that Harvard-degreed people of color wouldn't add diversity to newsrooms — connecting Licht's opinions to a broader phenomenon of white American men's "anti-woke centrism." 
"It really matters that these anti-woke centrists often live in deeply Democratic areas. If you are in a red state, like me, you are constantly in fear of your state government adopting conservative policies — such as new limitations on reproductive freedom, transgender rights and honest education about race," Bacon, Jr. wrote. "But if you live in D.C. New York City or San Francisco, a much more realistic concern is that a 'woke' liberal with whom you don't agree gains political power — or sharply criticizes you in public." 
He added that Licht and other powerful people like him "should definitely stop being so anti-woke."
"It is disappointing that some of the most powerful people in the country think the problem in America is that people are too critical of the police and insufficiently critical of transgender activists," he said. "I can't tell if the anti-woke don't understand what's actually happening in America — or if they actively oppose a more equitable country."
Read more
about Chris Licht