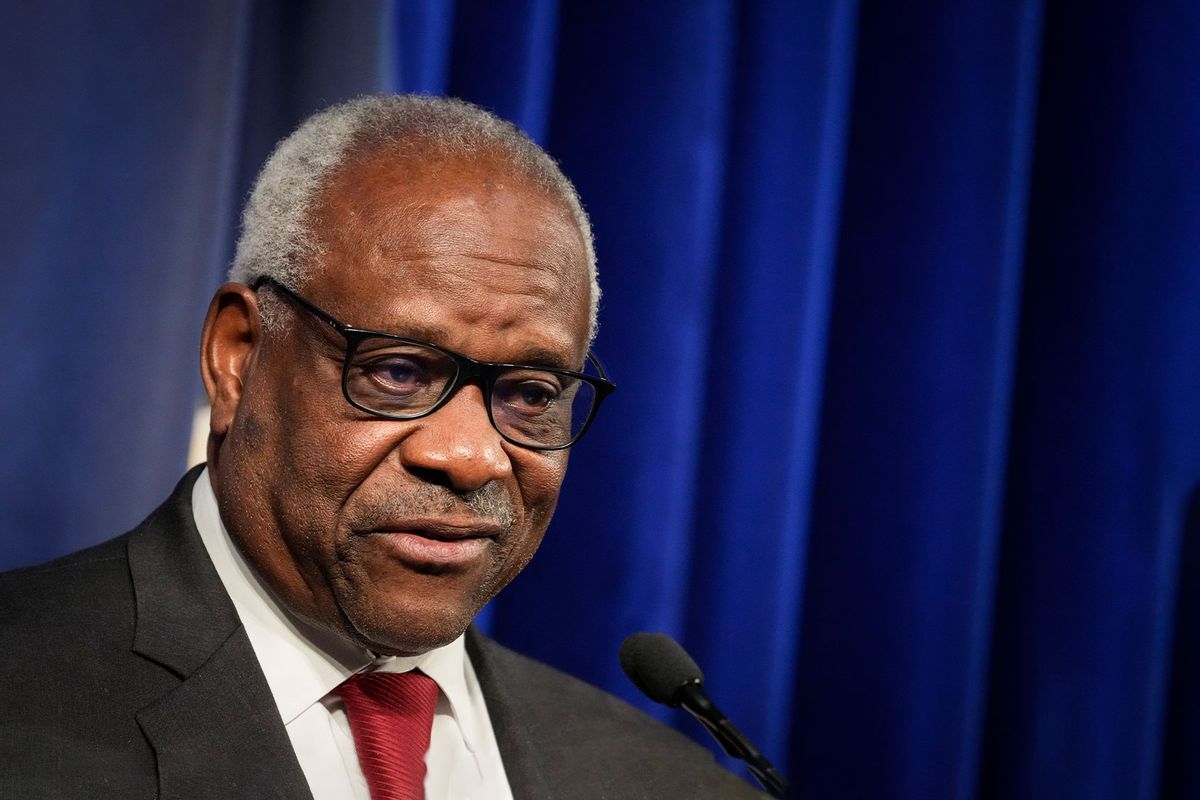 Harlan Crow, the billionaire GOP megadonor under scrutiny for lavishing U.S. Supreme Court Justice Clarence Thomas and his relatives with high-dollar gifts, is also "deeply intertwined with the shadowy world of Republican dark money" and has given millions of dollars to secretive right-wing groups, a leading ethics watchdog reported Thursday.
In a new analysis, Citizens for Responsibility and Ethics in Washington (CREW) details how Crow "personally took park in the creation" of the dark money system that flourishes in the wake of the Supreme Court's 2010 Citizens United v. Federal Election Commission (FEC) ruling.
That landmark decision—in which Thomas sided with the 5-4 majority—affirmed that the First Amendment's free speech clause prohibits limits on independent expenditures on political campaigns by corporations, labor unions, nonprofit groups, and others.
"Crow's secret political contributions and undisclosed gifts to Justice Thomas can be seen as two sides of the same coin, offering opportunities to exercise influence, while keeping the public in the dark about who is pulling the strings," CREW's Adam Rappaport and Meghan Faulkner wrote in the analysis.
"In helping bankroll the Republican network of dark money groups following Citizens United, Crow has taken full advantage of the diminishing transparency laws around our politics—which Justice Thomas has been instrumental in dismantling," the pair added. "As a result, we will likely never know the true impact of Crow's political spending on our government and our elections."
According to the report:
Crow's political spending started long before Citizens United opened the floodgates for anonymous money in American elections in 2010. Between 1977 and 2009, Crow and his companies gave more than $2.4 million to federal candidates, parties, PACs, and other political entities. Since Citizens United, he's spent $13.8 million on federal politics, bringing his lifetime total of spending reported to the FEC to more than $16 million.
Some of Crow's earlier dark money contributions include a 2004 donation to Swift Boat Veterans for Truth, a group that ran ads dishonestly disparaging Democratic presidential candidate John Kerry's Vietnam war record, and funding for Liberty Central, a conservative advocacy group run by Ginni Thomas while her husband and other justices deliberated Citizens United.
More recently, Crow gave $2.5 million to the American Crossroads super PAC and $1.5 million to the Congressional Leadership Fund. Both groups are dedicated to electing Republican political candidates.
Crow—who has denied any wrongdoing regarding his relationship with Thomas, as has the justice—has been coy about his dark money contributions.
"I disclose what I'm required by law to disclose," he told The New York Times in 2011, "and I don't disclose what I'm not required to disclose."