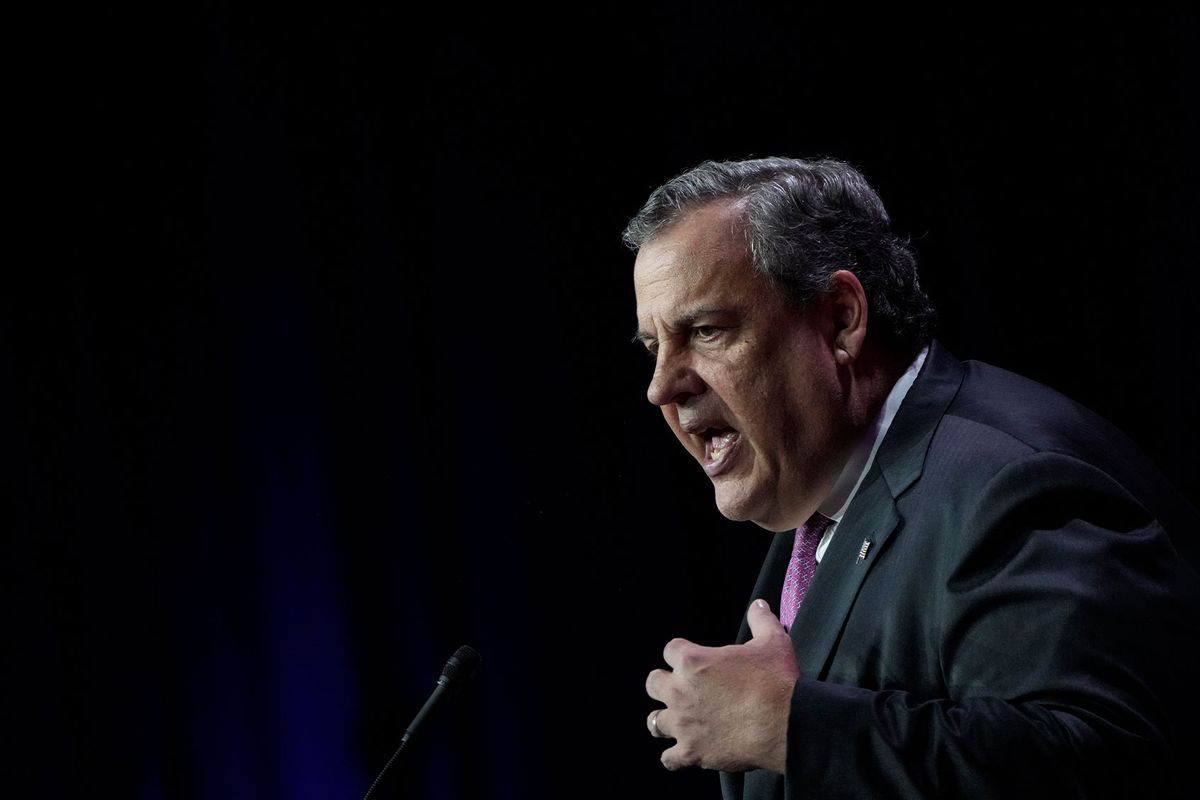 Former New Jersey Gov. Chris Christie this week ripped into his leading GOP primary opponent, former President Donald Trump, following reports that the former president is diverting campaign funds to his political action committee that has paid for his mounting personal legal fees.
The New York Times first reported Sunday that Trump had redirected a large portion of his campaign donations to his Save America PAC in late February or early March, amounting to what may be at least $1.5 million. 
In a Wednesday evening interview with CNN's Kaitlan Collins, Christie called Trump's donation scheme "disgraceful."
"He's going to middle class men and women in this country and they're donating $15, $25, $50, $100 because they believe in Donald Trump and they want him to be president again. They're not giving that money so he can pay his personal legal fees," he said. "And let's remember something. He's a billionaire. He's a billionaire, self-professed billionaire. Why can't he use his own money to pay his personal legal fees and not use money coming from the public?
"It's disgraceful and it's a continued grift," he said before breaking down the history of what he said is Trump and his family's involvement "in grifting."
Collins then asked Christie for his opinion on why Trump isn't using his own money to pay for legal fees.
"Because he's the cheapest person I've ever met in my life. That's why. And what he's very good at, Caitlin, is spending other people's money." Christie replied, echoing sentiments he shared with Politico in a Tuesday evening interview, in which he referred to Trump as "the cheapest S.O.B. I've ever met in my life."
"This is a billionaire who refused to pay his lawyers with his own personal money, and instead, men and women out there who believe in him and wanted [him] to be elected president are donating money to try to forward his candidacy … and he's diverting that money to pay his own legal fees," Christie told Politico.
"He should take a pledge today to instruct his campaign to no longer spend any public money on his legal fees," Christie added. "He is the richest candidate in this race, yet he is using public money to pay his legal fees. He should be ashamed of himself."
Save America has previously covered Trump's legal fees, including the $3 million paid to lawyer Chris Kise for legal representation and the costs for the legal bills of some of the key witnesses in the federal probe into his handling of classified materials post-presidency. 
---
Want a daily wrap-up of all the news and commentary Salon has to offer? Subscribe to our morning newsletter, Crash Course.
---
As the current Republican frontrunner faces other investigations into his efforts to overturn the 2020 election — in addition to the two criminal indictments he has already incurred at the state and federal level — his legal fees could continue to rise.
Christie has attempted to distinguish himself from the other Republican presidential candidates by standing staunchly against Trump, an approach that has yielded mixed results and even gotten him booed during last week's Faith and Freedom conference.
A Saint Anselm poll showed Christie gaining traction in New Hampshire, where he has concentrated much of his campaign efforts, polling at 6 percent among the state's Republican primary voters. The poll ranks Christie in third place in the state behind Florida Gov. Ron DeSantis, who sits at 19 percent, and the former president, who leads the race at 47 percent.
"June in the year before the election is not a time when people should be figuring out who they think is gonna win and who they think is gonna lose," Christie said. "No campaign has really started yet in earnest."
Read more
about Trump's donation scheme