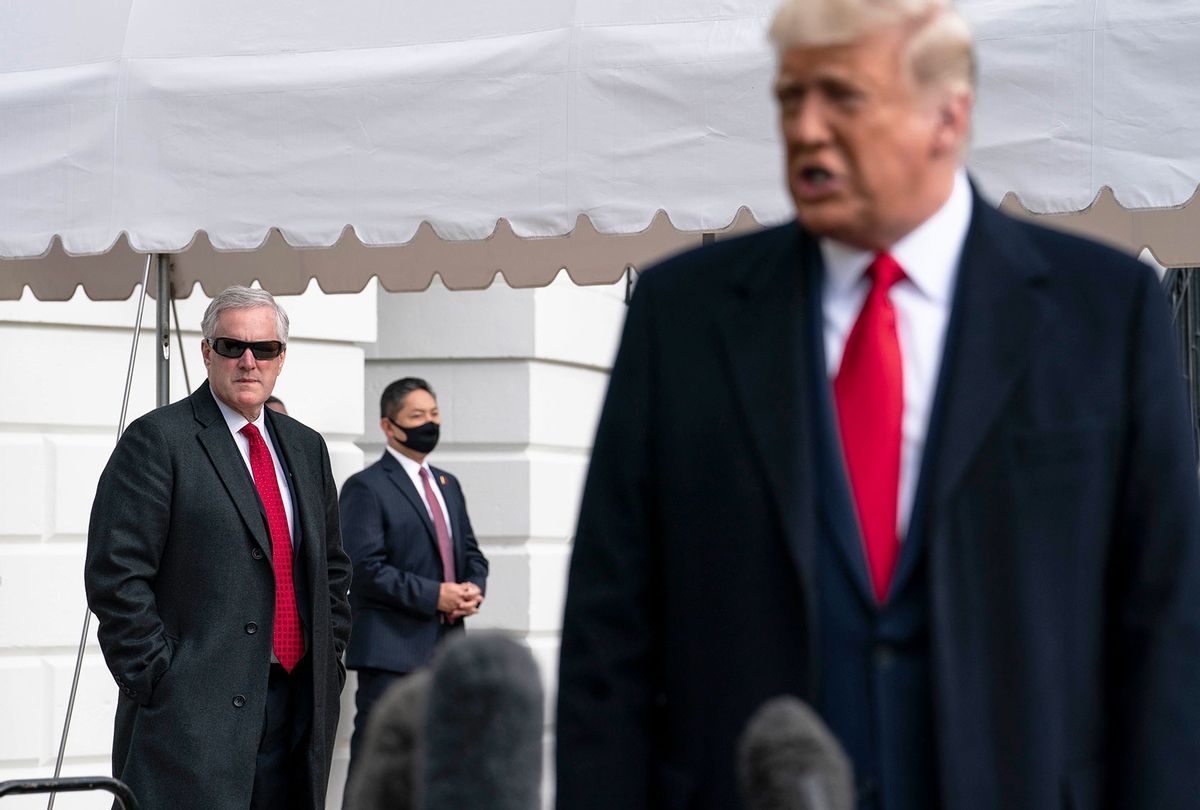 An attorney for former White House chief of staff Mark Meadows denied that he cut a deal with prosecutors but experts say former President Donald Trump should still be worried about his testimony.
ABC News and other outlets reported on Tuesday that Meadows had testified before a federal grand jury hearing evidence in the special counsel's investigations into Trump without the former president's knowledge, raising speculation about whether the former aide may have pleaded guilty or received immunity from prosecutors to testify.
The Independent on Wednesday reported that Meadows is "cooperating with investigations into his former boss."
"It is understood that the former North Carolina congressman testified as part of a deal for which he has already received limited immunity in exchange for his testimony," the outlet reported, adding that a source briefed on the agreement claimed that it would involve Meadows entering guilty pleas to "unspecified federal crimes."
But Meadows attorney George Terwilliger denied the report that his client would enter any guilty pleas, calling it "complete bulls**t."
Terwilliger did not address whether his client had gotten immunity, however.
"Without commenting on whether or not Mr. Meadows has testified before the grand jury or in any other proceeding, Mr. Meadows has maintained a commitment to tell the truth where he has a legal obligation to do so," Terwilliger told The New York Times earlier this week.
CNN justice correspondent Evan Perez said the statement may "make the hairs of the neck of Donald Trump's team stand, frankly, because it's very ominous."
ABC News reported that Meadows has given evidence in both the special counsel's probes: the Mar-a-Lago classified documents case and a separate investigation into Trump's efforts to overturn his 2020 election loss that culminated in the deadly Jan. 6 Capitol riot.
"Mark Meadows is arguably the biggest witness," Perez said. "He was there when the former president was formulating his effort to try to stay in office despite losing the election. He was involved in trying to tell members of Congress that there was this plan — you saw some of the text messages from the January 6 Committee investigation. He outlined the plan… try to get states to send alternate electors and try to make sure that the former president could remain in office."
Former U.S. Attorney Harry Litman tweeted that Meadows' testimony shows special counsel Jack Smith is "going to the dead center of the January 6 offenses."
"Makes charges there seem both more likely and less remote in time," he wrote.
If Meadows flips on Trump, wrote Harvard Law Prof. Laurence Tribe, it "could be a profound game-changer."
---
Want a daily wrap-up of all the news and commentary Salon has to offer? Subscribe to our morning newsletter, Crash Course.
---
In the documents case, federal prosecutors informed Trump last week that he is the target of its investigation, according to The Guardian and other outlets. Trump's attorneys received the "target letter" a day before they met with special counsel Jack Smith, when they asked him not to indict the former president.
Trump denied to the New York Times' Maggie Haberman that he was told he would be indited by "demurred" when asked if he had been told he was a target.
"No one has told me I'm being indicted, and I shouldn't be because I've done NOTHING wrong, but I have assumed for years that I am a Target of the WEAPONIZED DOJ & FBI," Trump wrote on Truth Social.
The Independent reported that the DOJ is preparing to ask a grand jury in D.C. as early as Thursday to indict Trump on obstruction and Espionage Act charges but the vote may be pushed back for numerous reasons.
A target letter would indicate that Smith "intends to indict Donald Trump," tweeted former federal prosecutor Renato Mariotti, adding that it does not tell us "when" an indictment may be returned.
"An indictment is imminent," predicted George Conway, a conservative attorney and longtime Trump critic. "They're basically telling him they're likely to indict him."
"It doesn't necessarily mean it's going to be tomorrow," he told MSNBC. "It doesn't necessarily mean that next week. But it does mean that if you are a believer in the rule of law and have a hankering for the rule of law, Santa's gonna come early this year."
Read more
about the special counsel probes