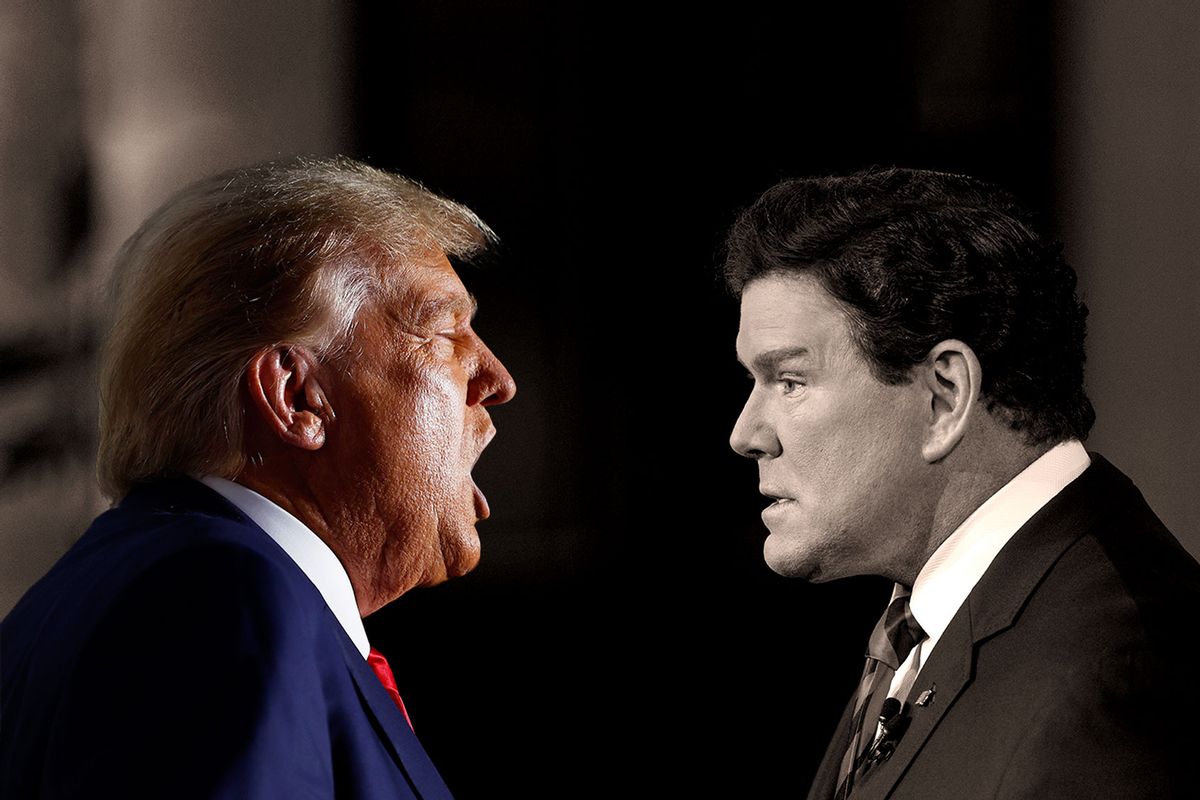 Former President Donald Trump struggled to defend his plan to execute drug dealers when Fox News anchor Bret Baier pointed out that his policy would have killed Alice Johnson, the non-violent drug offender Trump has repeatedly bragged about freeing from prison.
The rambling interview — which mainly focused on Trump's latest indictment in the Mar-a-Lago classified documents case — eventually meandered into the topic of Trump's stance on drug dealing in the United States. 
"You've said you'd be in favor of the death penalty for drug dealers. Still the case?" Baier asked.
"That's the only way you're gonna stop it," Trump replied, dubiously arguing that "a drug dealer will kill approximately 500 people during the course of his or her life."
Baier pointed out the ex-president was "a big proponent of the First Step Act, the criminal justice reform."
"But I focused on non-violent crime. As an example, a woman who you know very well was in jail. She had 24 more years to serve, she served for 22 years," Trump said, referring to Johnson whose sentence was commuted by Trump after lobbying from reality star Kim Kardashian.
"But she'd be killed under your plan," Baier pointed out.
"Huh?" Trump replied.
"As a drug dealer," Baier said.
"No, no. No. Under my, oh, under that? Uhh, it would depend on the severity," Trump argued.
"She's technically a former drug dealer," Baier observed. "She had a multi-million dollar cocaine ring."
"Any drug dealer," Trump replied.
"So even Alice Johnson?" asked Baier.
"She can't do it, ok? By the way, if that was there, she wouldn't be killed, it would start as of now," Trump insisted.
"Starting now," Trump emphasized. "But she wouldn't have done it if it was death penalty. In other words, if it was death penalty, she wouldn't have been on that phone call. She wouldn't have been a dealer."
Trump followed by comparing Johnson's situation to his own while in office.
"Now she wasn't much of a dealer 'cause she was sort of like, I mean, honestly, she got treated terribly," he said. "She was treated, she was treated sort of like I get treated. But Bret, she was treated very unfairly. She got 48 years and that was bad."
---
Want a daily wrap-up of all the news and commentary Salon has to offer? Subscribe to our morning newsletter, Crash Course.
---
At another point during the sit-down, the former president lauded his widely-panned COVID-19 response.
"There are people that say I saved 100 million lives — I don't even talk about it," he claimed without evidence.
Speaking about "a Democrat friend who is very smart," Trump stated that the friend "said, 'I don't understand one thing about you. I watch your rallies, they're incredible. You talk about defeating ISIS, you talk about taxes, you talk about regulation, you talk about everything. You never said — I've never heard you talk about the incredible job did you with the vaccines.'"
"Because, as you know," Trump continued, "I got them done in nine months and it was supposed to take anywhere from five to 12 years. I broke their ass, ok? And do you know who doesn't like me too much? The FDA because they were very bureaucratic and I got it done. And he said, 'You may have saved in the world, throughout the world, a hundred million people and you never talk about it.' I said, I really don't want to talk about it because, as a Republican it's not a great thing to talk about because, for some reason, it's just not."
"For some reason?" Baier pushed Trump to explicate.
"Yeah, for some reason," Trump replied. "Because, people love the vaccines, and people hate the vaccines. But, conservatives aren't — and I understand both sides of it, by the way. I understand both sides very well. What I didn't do is the mandates — the mandates and the vaccines don't go."
The former president then seized the moment as an opportunity to take a brief dig at his 2024 presidential opponent, Florida Governor Ron DeSantis, who Trump argued loved "radical masker" Dr. Anthony Fauci.
"So, the mandates are horrible. And I was always against the mandates," he said. "But really on the vaccines, I let the governors make their decisions. But you have a lot of people that love the vaccines. I mean, you do. They happen to be more Democrat than they are Republican."
Read more
about Trump's Fox News interview