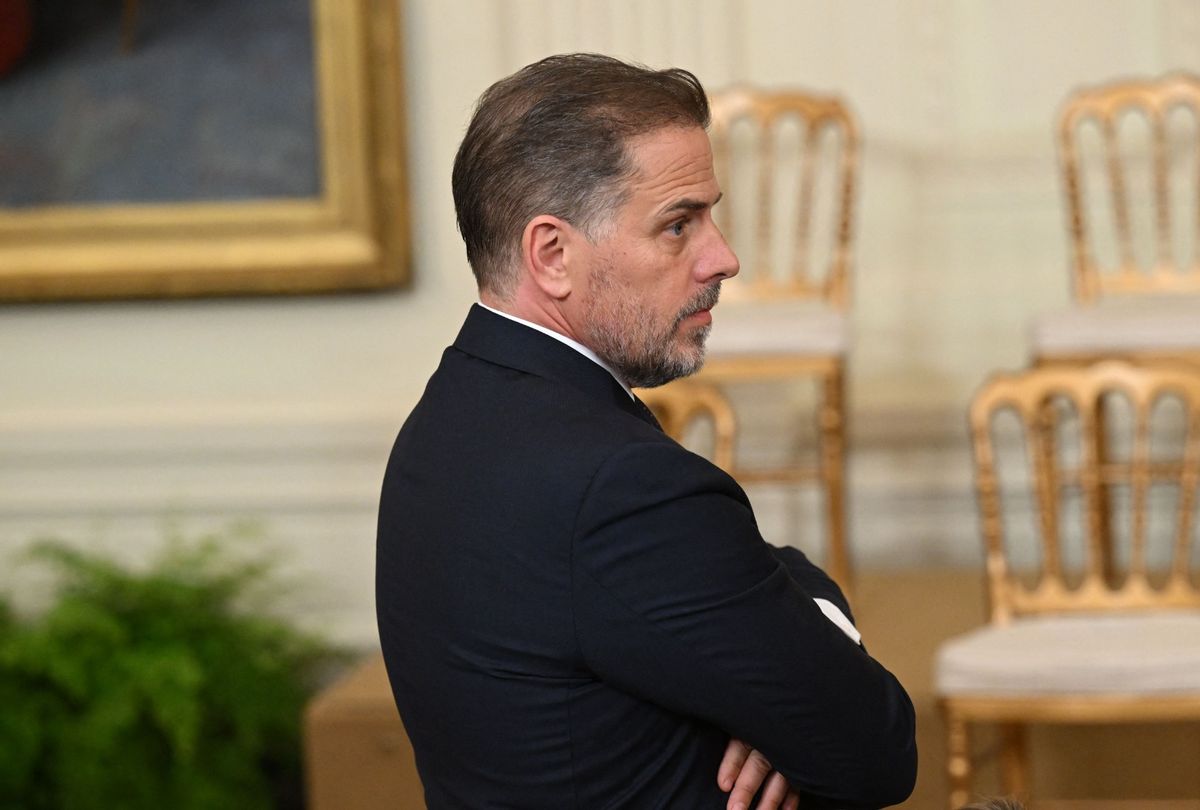 Something real finally happened in the Hunter Biden saga besides all the innuendo and gossip that has had the right wing in a permanent state of excited agitation for the past few years. On Tuesday morning, he was charged with three crimes.
 U.S. Attorney David Weiss, (a Trump appointee who the former president was very proud to nominate, saying that he "shares the President's vision ") released a letter laying out the charges against Biden:
The first Information charges the defendant with tax offenses—namely, two counts of willful failure to pay federal income tax, in violation of 26 U.S.C. § 7203. The defendant has agreed to  plead guilty to both counts of the tax Information. The second Information charges the defendant with a firearm offense—namely, one count of possession of a firearm by a person who is an unlawful user of or addicted to a controlled substance, in violation of 18 U.S.C. § 922(g)(3) and 924(a)(2) (2018). The defendant has agreed to enter a Pretrial Diversion Agreement with respect to the firearm Information.
I didn't know that failing to pay your taxes on time was a criminal offense but apparently it can be, although according to the experts most of the time it's dealt with as a civil offense. Biden had paid those taxes some time back so he was given probation for his crime. The gun charge pertained to his lying on a form saying that he hadn't done any drugs during that specific period of time. The Diversion Agreement declined to prosecute him for that crime as long as he agreed to never own a firearm again and to stay drug-free for 24 months.
After five long years of investigating every aspect of Hunter Biden's life, these are apparently the only crimes they could come up with to justify their work. They were unable to prove the Rudy Giuliani allegations that Hunter had accepted bribes from Ukrainians or vast sums from Chinese interests. They didn't even get the chance to enter into evidence anywhere all those salacious pictures of him on that infamous "laptop." So, needless to say, the Republicans are now engaged in intense breast-beating and lamentation. How is it possible that the black sheep of the so-called "Biden Crime Family" can get away scott free?
Actually, he didn't.
Take for example the case of Trump adviser and personal confidante Roger Stone and his wife, who failed to pay taxes from 2007 to 2011 and again in 2018. They were sued by the government in civil court for two million dollars. They also tried to hide their wealth from the government which some people would call tax evasion. But the government did not charge them — even though Stone had been stringing them along pretending to be trying to pay for years until he finally just stopped altogether. So, what happened to Roger Stone? He was allowed to settle with the government after they attempted to obtain records that it was strongly suspected would prove that he'd committed a felony by trying to evade paying his taxes. It all ended very amicably with no criminal charges filed. Isn't that nice?
I would have thought that no sentient being on the planet would have the nerve to compare what Donald Trump is accused of with the charges against Hunter Biden.
As for Hunter's other charge, all the legal experts point out that this is usually only charged in high-profile cases when the person under investigation hasn't violated any other laws. As NBC reported, this charge was recently brought against "the mother of a 6-year-old boy who shot his teacher in Newport News, Virginia, [who] pleaded guilty to the charge — possessing a firearm while using marijuana — along with a charge of making a false statement." Biden's case was certainly high profile and they clearly wanted to charge him with something and couldn't find any other violation, so it fits.
And as it happens, the law Biden violated is being challenged by gun proliferation activists. One appeals court has already held that the government can't ban people convicted of a non-violent crime from having a gun and another ruled that drug users have a right to bear arms under the Second Amendment. Personally, I think the government should have broad powers to regulate gun ownership so it doesn't offend me that Biden agreed to forego using drugs and owning a gun in the future to avoid being charged with a felony. That seems like a fair deal for a first offense in a non-violent crime. But that's just me. I would have expected the right, which even defends violent terrorists' right to bear arms, to scream bloody murder that someone was charged for lying on a background check or required to give up their right to own a gun.
---
Want a daily wrap-up of all the news and commentary Salon has to offer? Subscribe to our morning newsletter, Crash Course.
---
The legal consensus is that Hunter Biden was actually treated more harshly than most people in America would have been treated in these circumstances.
As expected, the right-wingers are having a full blown meltdown over this. The "sweetheart deal" talking points were in instant circulation:
I would have thought that no sentient being on the planet would have the nerve to compare what Donald Trump is accused of with the charges against Hunter Biden. Not even Speaker Kevin McCarthy, R-Calif. But as long as we're talking about him, perhaps McCarthy would care to comment on the big story By Eric Lipton in the New York Times yesterday about the Trump family's latest "sweetheart deal" with the governments of Saudi Arabia and Oman.
Mr. Trump's name is plastered on signs at the entrance of the project and in the lobby of the InterContinental Hotel in Muscat, the nearby capital of Oman, where a team of sales agents is invoking Mr. Trump's name to help sell luxury villas at prices of up to $13 million, mostly targeting superrich buyers from around the world, including from Russia, Iran and India.

Mr. Trump has been selling his name to global real estate developers for more than a decade. But the Oman deal has taken his financial stake in one of the world's most strategically important and volatile regions to a new level, underscoring how his business and his politics intersect as he runs for president again amid intensifying legal and ethical troubles.
Let's just say this might be just a bit more relevant than Rudy Giuliani's moldy, thoroughly-investigated Hunter Biden Burisma pseudo-scandal. It's happening right before our eyes in real time.
We already knew about Trump's son-in-law Jared Kushner's $2 billion "sweetheart deal" with the Saudi Investment Fund and now Trump and his son Eric (Don Jr is apparently now a professional MAGA influencer) have done a major mega deal with the government of Oman, partly financed by the Saudis —- as Trump is running for president and is under indictment for stealing highly sensitive national security documents, some of which reportedly have to do with the Middle East. Alrighty then.
What's all this I keep hearing about a "crime family?" I didn't quite catch the name. 
Read more
about the GOP's obsession with Hunter Biden