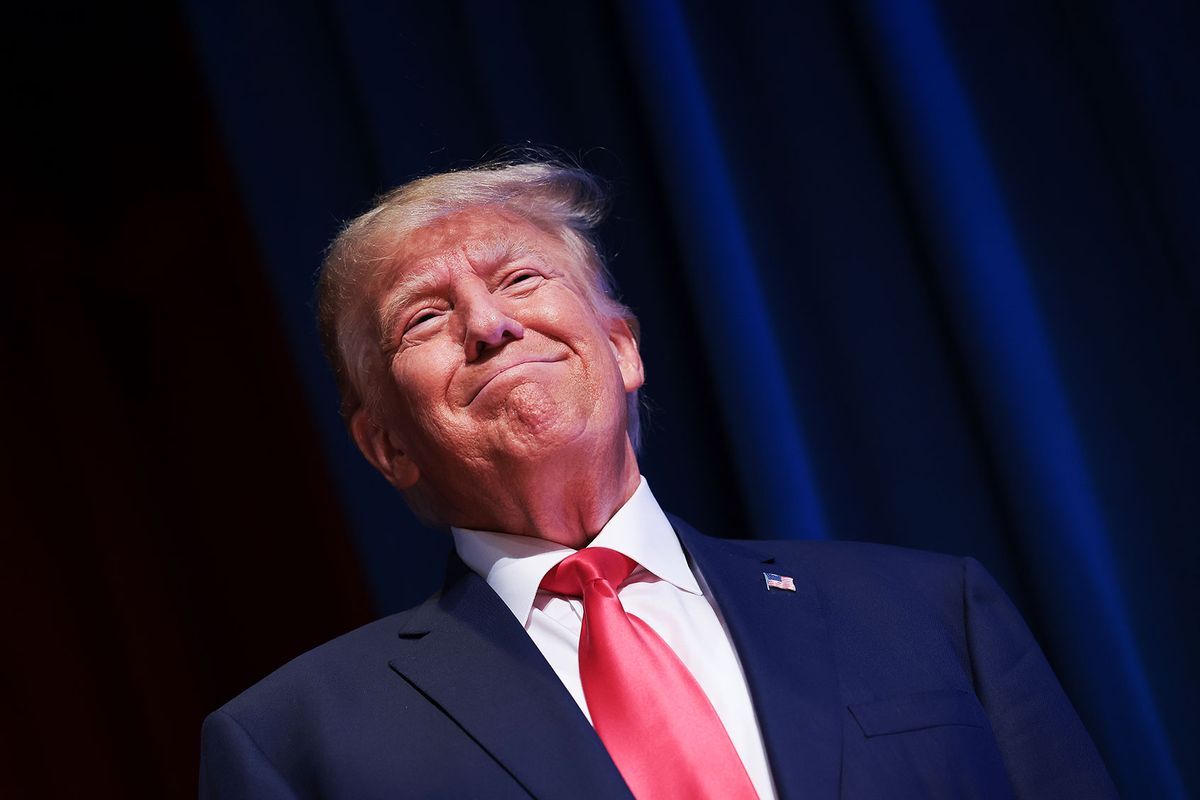 Right now, the American people are hearing two loud noises at the same time.
The result is confusion and disorientation.
One sound is from how "the walls are finally closing in" on Donald Trump for his decades-long crime spree where he is now the first ex-president to have been arrested and indicted for federal crimes because of his alleged stealing of top secret documents. The highly classified information supposedly included details of the country's military and other strategic vulnerabilities, identities of its spies abroad, and other closely guarded secrets, including the Pentagon's plans for an attack on Iran. Additionally, Trump is likely to be indicted and arrested for federal crimes connected to the coup attempt on Jan 6, 2021. As it stands today, Donald Trump faces the possibility — however unlikely — of being put in prison for the remainder of his natural life.
Here is where the confusion comes in. Making this noise even louder, is Donald Trump himself.
Trump, a malignant narcissist who lacks impulse control and internal self-regulation, continues to publicly incriminate himself by basically admitting his guilt during TV appearances and interviews, at rallies, and via his Truth Social disinformation platform while simultaneously proclaiming his innocence.
That's when the second sound is heard. It comes from the metaphorical and literal cash registers that are continuously ringing from the many millions of dollars that Donald Trump and his inner circle are being given by the MAGA faithful and other Trump cultists as they throw money at their Dear Leader in an act of support for his crimes so that he can "defend himself" against being unfairly "persecuted." 
Donald Trump is a master showman and his being arrested and indicted is first and foremost an opportunity to make money. To that point, Trump now claims to have raised at least seven million dollars since being indicted and arrested in Miami for his alleged crimes related to the Espionage Act. This is in addition to the millions of dollars that Trump's followers gave him after his pleas for support following his arrest and indictment in New York for alleged crimes connected to hush money payments and other financial crimes at the end of March.
Politico provides this context:
Former President Donald Trump's 2024 fundraising has been turbocharged by his indictment, according to new figures provided by his campaign.

Trump raised a combined $18.8 million in the first quarter through his joint fundraising committee and his campaign, the latter of which is required to report its first-quarter financial activity on Saturday.

But the campaign also says it brought in nearly the same amount in the two weeks after the charges were filed against the former president — $15.4 million — underscoring just how much the charges against Trump have animated his backers. In another indication that the indictment has helped Trump to grow his fundraising base, nearly a quarter of those who contributed to Trump during that period had never given to him before.

The figures provide a snapshot of how Trump's arrest has, at least for the time being, shaped the Republican primary. While the former president's indictment — along with potential future charges in several ongoing investigations — puts him in serious legal jeopardy, it has helped to solidify his standing with his supporters and grow his campaign war chest.

"In general, any time a candidate's name is all over the media and dominating attention, it's good for fundraising," said Eric Wilson, a Republican digital strategist. "The wall-to-wall coverage just put him top of mind for donors."

Whether Trump's torrid fundraising pace persists — or gradually returns to its slower, pre-indictment level — is uncertain. Trump had been raising roughly $168,000 per day from Jan. 1 until when charges were filed against him on March 30, according to the figures his team provided. In the 24 hours that followed, he raised over $4 million. (The first quarter ended on March 31, the day after Trump's indictment was first confirmed, meaning only a small segment of Trump's post-indictment fundraising is reflected in the first-quarter figures.)
Public opinion polls consistently show that the American people as a whole want some closure. They want all of the Trump noise goes way. Such an outcome is unlikely any time soon, however, because of the vast amounts of money to be made from the chaos, confusion, danger, and peril that surrounds Trump. 
In a recent interview at Salon, political consultant Cheri Jacobus explains how the Trump money machine works:
For Trump's direct victims, and for many in the country at-large, the indictments, while welcome, are somewhat anti-climactic. We are tired. These indictments and the expected additional coming indictments are at least a year too late. So much damage has been done and so many Trump criminal allies still roam free, inciting violence, fomenting fascism, and spreading disinformation. The national security ramifications of this massive breach are almost too frightening to comprehend. The cottage industry surrounding Trump — on both sides — media, superPACs, pundits — are largely repeating the mistakes of 2015-2016 that got us here in the first place. There is big money in promoting Trump, covering Trump as "news", and "fighting" Trump. To be clear — Trump understands this at a granular level. [my emphasis added]
---
Want a daily wrap-up of all the news and commentary Salon has to offer? Subscribe to our morning newsletter, Crash Course.
---
The matchup between Trump and Special Counsel Jack Smith is lucrative in other ways as well, as there is now an entire industry selling t-shirts, hats, mugs, and other merchandise to both Smith's fans and his haters.
So I envision three possible outcomes in the next months and through to the 2024 election:
Trumpism will then become a more powerful 21st-century version of the white supremacist neo confederate Lost Cause.
One: Trump becomes the Republican Party's 2024 presidential nominee while he is also on trial for violating the Espionage Act, and faces potential trials for cases in Georgia and DC for the crimes of Jan. 6, in New York for illegal payments to his mistress Stormy Daniels, and perhaps elsewhere for fraud and financial crimes. America is washed over by a cacophony of sound, fury, and chaos; it is deafening and maddening. Trump somehow wins the Election, pardons himself or otherwise is allowed to be free, and then embarks upon a revenge-fueled assault on the American people and their democracy.
Two: Donald Trump is defeated in the 2024 election by President Biden and the Democrats. Trump is also found guilty and sentenced to prison. He is disappeared from public life – but this does not remove all his power or influence as the leader of the MAGA fascist movement and larger white right. Donald Trump is more than a man or leader; he is a type of symbol and signifier and an object of sacred worship and salvation — a MAGA Jesus — for his followers.
Because of that fact, the idea of Donald Trump and what he represents will endure and his power will be passed on to a successor.
Trumpism will then become a more powerful 21st-century version of the white supremacist neo confederate Lost Cause, a threat and constant noise in the background of American life that crashes and electrocutes like thunder and lightning when the right (wrong) circumstances come together to harness it.
Here is the third scenario. Donald Trump is truly vanquished and he and the MAGA movement and their followers are treated by "respectable society" as something verboten and to otherwise be shunned. As has often happened in other countries when they have suffered through great national traumas, a type of organized forgetting takes hold. Of course, this does not solve the deeper problems that gave rise to such crises.
The American mainstream news media — as they have already been doing throughout the Age of Trump and beyond — will create false distinctions between "normal" and "responsible" Republicans and the "far right" and "extreme" elements of the party and "conservative" movement as though that separation can be neatly made or even substantively exists.
In this scenario, Trumpism and neofascism are absorbed by the Republican Party and "conservative" movement as a new type of status quo and ideological baseline. America's political terrain shifts to accommodate it in unhealthy ways; America's slide into neofascism and competitive authoritarianism continues. Here, Donald Trump and Trumpism are like a type of loud silence, something unnatural and uncomfortable in American life and society, and the public is afraid to say their names aloud lest they manifest like the bogeyman or some other monster.
Ultimately, one thing is almost certain: The American people will not have the much-needed silence and peace to heal and recuperate that they desperately need any time soon.
Read more
about this Donald Trump's big mouth and big troubles