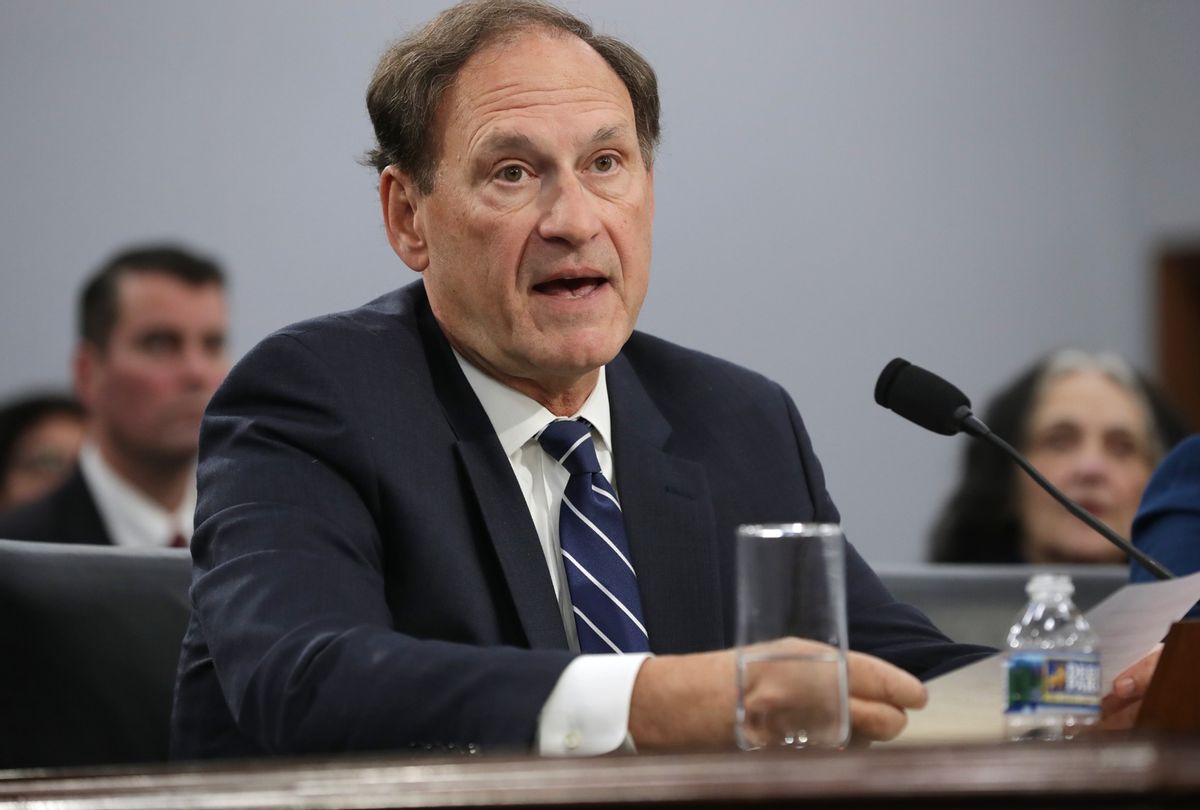 In 1985, President Ronald Reagan nominated Charles Cooper, a deputy in the Justice Department's Civil Rights Division, to become assistant attorney general for the Office of Legal Counsel. In need of a deputy himself, hardline conservative Cooper reached out to fellow DOJ employee and now-Supreme Court Justice Samuel Alito, with whom he had become friendly, and urged him to apply.
Alito gushed about his conservative values and anti-abortion views in his application. He was hired, and served under Cooper for several years. The two remained close over the years, and in 2005, when George W. Bush nominated Alito to the Supreme Court, Cooper stepped in to help Alito pass the confirmation process in the Senate. In the intervening time, Cooper had co-founded Cooper & Kirk, an incredibly influential law firm in Washington, D.C.
Now, as findings from Accountable.US shown exclusively to Truthout reveal, the close relationship between Alito and Cooper could be a deciding factor in the future of voting rights in the U.S.
The Supreme Court is expected to rule this week on Moore v. Harper, in which North Carolina Republicans led by state House Speaker Tim Moore are urging the Court to adopt the fringe and debunked "independent state legislature" theory that says that only state legislatures — not the courts — have authority over the drawing of congressional maps. The decision of this case could allow politicians to unfairly skew elections toward their party with no recourse, upending American democracy.
Representing the plaintiffs in Moore is Cooper & Kirk, Charles Cooper's law firm. One of the lawyers on the case, Cooper & Kirk partner Megan Wold, has served as a law clerk to Alito.
Alito, who has not recused himself from the case, appears poised to rule with the plaintiffs — in fact, of the Supreme Court justices, he seems singularly ready to rule with the Republicans in the case, experts have observed.
While Alito and Cooper's relationship has been previously documented, it does not appear to have been explicitly tied to the Moore case in recent reports. The findings come in the wake of a bombshell report by ProPublica last week finding that Alito has taken lavish gifts from GOP donors without disclosing them — including a $100,000 private jet trip from hedge fund billionaire Paul Singer, whose firm would go on to win a case in front of the Supreme Court.
As the Accountable.US report details, Alito and Cooper remained friendly after moving on from the assistant attorney general's office in the late 1980s. When Alito was nominated to the Supreme Court in 2005, Cooper helped move his confirmation along.
"The power of his intellect is the most striking thing about him," Cooper told the press at the time. "I'd imagine there are about six lawyers in the country who are John Roberts's equal, and Sam is one of them."
He continued to praise Alito for the way he handled the pressure in the Office of Legal Counsel while the office dealt with the fallout of the Iran-Contra scandal. Meanwhile, Cooper served on Alito's "murder boards," which is what insiders call preparation sessions for Senate confirmation hearings.
Moore v. Harper is just one of several cases that Cooper & Kirk has argued before the Supreme Court while Alito has been on the bench that the justice did not recuse himself from.
In 2013's Hollingworth v. Perry, for instance, Charles Cooper himself argued for plaintiffs, asking the Supreme Court to uphold a California proposition that would amend the state constitution to only allow straight marriages to be recognized as valid. The Court ruled the proposition unconstitutional in a 5-4 decision, with Alito dissenting.
In another case in 2019, Cooper & Kirk, led again by Charles Cooper, filed briefs in support of the American Legion in American Legion v. American Humanist Association, a case regarding the constitutionality of the building of a 40-foot tall Christian cross in a public park in Maryland to honor veterans. Alito authored the decision for the 7-2 majority, ruling in favor of American Legion in saying that the statue does not violate the Constitution's Establishment Clause, and that the cross has taken on a "secular meaning" in historical contexts.
Alito also ruled for the Cooper & Kirk-backed parties who waged an unsuccessful challenge to the Affordable Care Act in a 2015 case, King v. Burwell, with Alito ruling with the minority in the 6-3 decision.
Accountable.US President Kyle Herrig said that the findings add yet another level to current concerns about Supreme Court ethics.
"This is just the latest example in a troubling pattern of Supreme Court scandals — all underscoring the need for urgent reform," said Accountable.US president Kyle Herrig. "While every single other federal judge is required to avoid behavior that so much as looks improper, our Supreme Court justices are taking lavish vacations with billionaires and failing to recuse themselves from cases where they have cozy relationships with involved parties."
"Chief Justice Roberts could change this today, but so far, he hasn't shown the courage. As long as the Chief Justice continues to dodge responsibility, public trust in our Court will continue to plummet," Herrig continued.
Accountable.US also uncovered Charles Cooper's ties to both Justice Clarence Thomas and right-wing court manipulator Leonard Leo. As the report details, Cooper was pictured "renew[ing] friendships" with Alito and Thomas's wives, Martha Ann Alito and Virginia Thomas, at the 2013 Supreme Court Historical Society's Annual Dinner, an event that the two justices also attended. Meanwhile, Cooper & Kirk and Charles Cooper are donors to the Federalist Society, of which Leo is a co-chair. They gave between $26,000 and $54,998 to the Federalist Society as of 2021, according to the group's most recent annual report.
ProPublica has also uncovered potential conflicts of interest regarding Alito's relationship with GOP megadonor Paul Singer. The conservative think tank Manhattan Institute, of which Singer is the chairman, filed an amicus brief in support of a group of Republican states seeking to strike down student debt relief in February. Groups have urged Alito to recuse himself from that case and another case regarding student debt that Singer has indirect financial ties to.