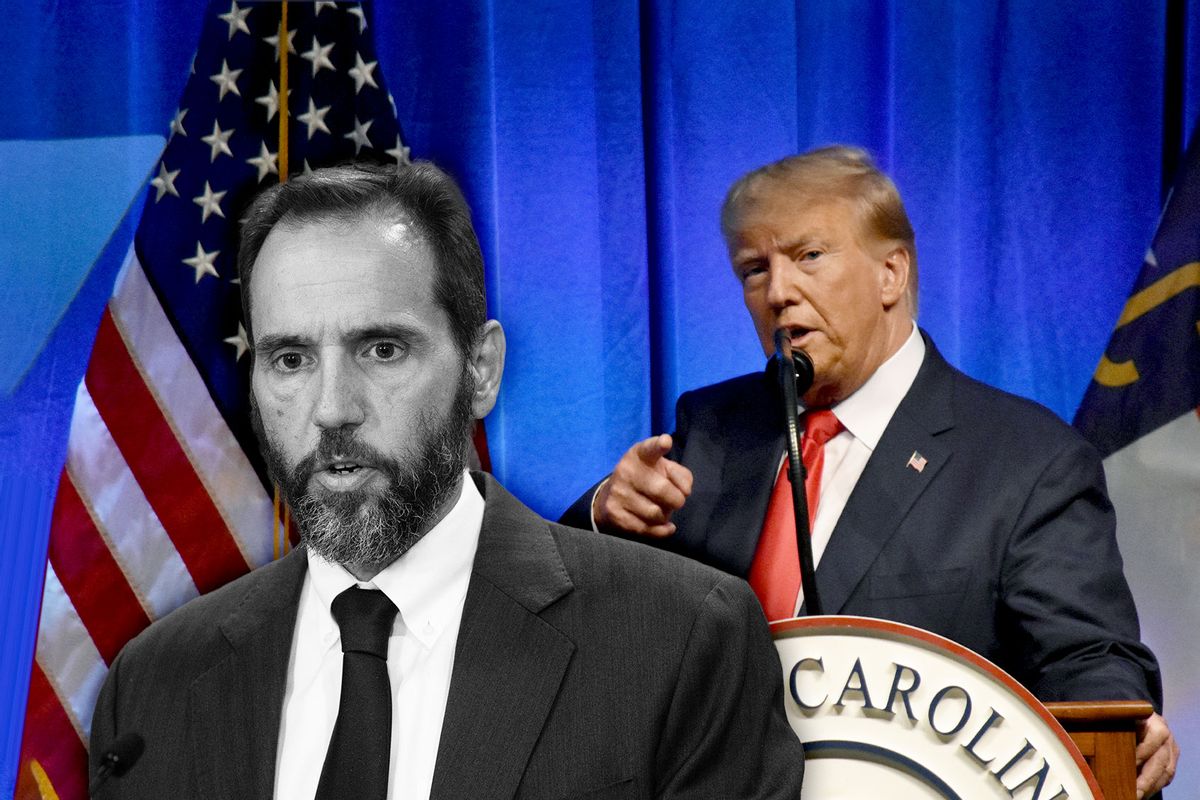 Former President Donald Trump on Tuesday expanded his barrage of online attacks against special counsel Jack Smith, who heads the investigations into Trump's handling of classified documents and alleged incitement of the Jan. 6 Capitol attack, to go after the prosecutor's family and friends, a move some experts say could push him closer to federal prison.
"COULD SOMEBODY PLEASE EXPLAIN TO THE DERANGED, TRUMP HATING JACK SMITH, HIS FAMILY, AND HIS FRIENDS, THAT AS PRESIDENT OF THE UNITED STATES, I COME UNDER THE PRESIDENTIAL RECORDS ACT, AS AFFIRMED BY THE CLINTON SOCKS CASE, NOT BY THIS PSYCHOS' FANTASY OF THE NEVER USED BEFORE ESPIONAGE ACT OF 1917," Trump posted to Truth Social early Tuesday, repeating oft-touted defenses about his exoneration via the Presidential Records Act that legal experts told Salon were null and void.
"'SMITH' SHOULD BE LOOKING AT CROOKED JOE BIDDEN AND ALL OF THE CRIMES THAT HE HAS PERPETRATED ON THE AMERICAN PUBLIC, INCLUDING THE MILLIONS & MILLIONS OF DOLLARS HE EXTORTED FROM FOREIGN COUNTRIES!" he continued.
New York University history professor Ruth Ben-Ghiat, who is a scholar of authoritarianism, told HuffPost that Trump's comment "smells of desperation."
"Once again, Trump is acting like a Mafia boss and also stringing as many propaganda slogans together as possible," she said.
"Trump is encouraging his followers, who we know have included the violent insurrectionists responsible for Jan. 6, to target the family and friends of Jack Smith," added Norm Eisen, a lawyer and Brookings Institution senior fellow. "It is profoundly concerning."
Levying threats against federal law enforcement officers who are doing their jobs is an offense that could yield years in prison. It is unclear, however, whether Trump's attacks, which extend back almost a year and a half, qualify him for prosecution. A Tuesday decision in the Supreme Court requires prosecutors to prove that the person making the inflammatory comment knows that the act would be perceived as a threat, rather than just requiring that any reasonable person would believe the comment to be a threat.
Neither the Justice Department nor Trump's team responded to HuffPost's requests for comment. It is also unclear whether Smith's team intends to ask the judge presiding over the case — Judge Aileen Cannon — to caution Trump about his behavior.
Eisen, however, said that the prosecution shouldn't have to make that request.
"The prosecution shouldn't have to raise it. The defendant shouldn't do it, and the judge shouldn't tolerate it…. If I were the judge, I would call him in right now and read him and his lawyers the riot act," he said. "Any other defendant might well be called on the carpet for this posting alone."
He explained that, while he did not perceive Trump's most recent attack as a threat, the Tuesday post should serve as a cautionary reminder to Cannon and the rest of the country of the potential impact of the former president's words.
"This is, after all, a social media posting by someone whose tweet to be in Washington Jan. 6 because, quote, 'will be wild,' precipitated a violent riot, and someone whose tweet at 2:24 p.m. on that day, after violence had already erupted, nearly got Vice President Mike Pence killed," Eisen said, adding that while Trump had the right to call for protests, he does not have the right to put individuals in danger.
"Targeting friends and family of a prosecutor…. It is totally different to personalize it in that way," Eisen added.
---
Want a daily wrap-up of all the news and commentary Salon has to offer? Subscribe to our morning newsletter, Crash Course.
---
Trump began turning his supporters on prosecutors, potentially inciting vitriol against them during a January 2022 rally in Texas.
"If these radical, vicious, racist prosecutors do anything wrong or illegal, I hope we are going to have in this country the biggest protests we have ever had in Washington, D.C., in New York, in Atlanta and elsewhere, because our country and our elections are corrupt," Trump said.
Three days before his arraignment in the classified documents probe in Miami earlier this month, Trump gave a reminiscent rallying cry in a speech to Republican activists in North Carolina.
"Our people are angry," he said. "And sometimes you need strength. You have to have strength, more than just normal strength. And we have to get a change because we're not going to have a country left."
In addition to the federal inquiries, Trump is also under investigation in Georgia for potentially scheming to subvert the results of the presidential election in that state. A potential criminal indictment in that case is expected to come in August. Trump was also criminally indicted in New York City earlier this year in connection to alleged hush money payments he made to an adult-film star during his 2016 bid for the presidency.
He maintains he committed no wrongdoing in all cases.
Read more
about Trump's legal woes