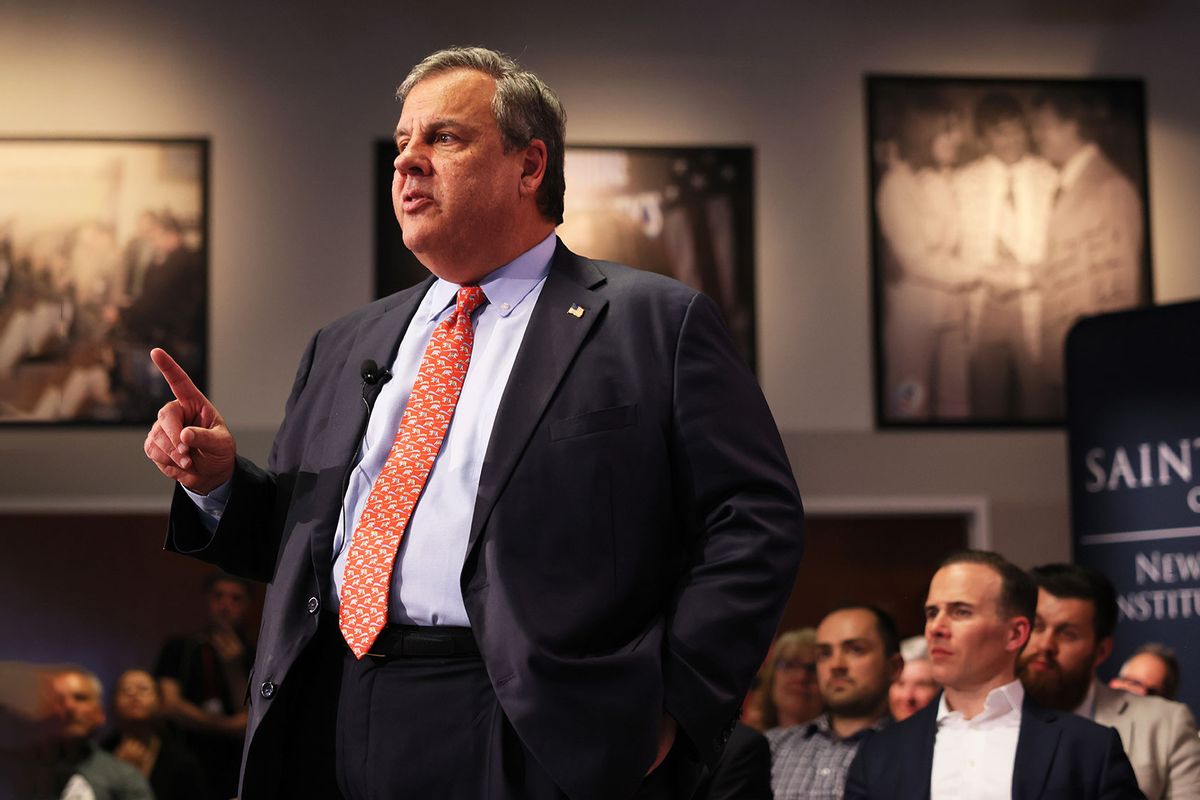 Former New Jersey Governor Chris Christie lit into former President Donald Trump after he was indicted last week on 37 criminal counts in the Mar-a-Lago probe.
Christie, who is challenging Trump for the 2024 Republican presidential nomination, said at a CNN town hall on Monday that Trump's alleged mishandling of classified documents was "awful" and predicted "a lot more information to come."
"It is a very tight, very detailed, evidence-laden indictment, and the conduct in there is awful," he said. "What I can tell you, for sure I know about that indictment, is there's probably about a third of the evidence they actually have is in that indictment."
"There will guaranteed be a lot more. When you're a prosecutor, you never put every card on the table before the trial," Christie added, alleging that Trump is "voluntarily putting our country through this."
"This is vanity run amok. Ego run amok. … Everyone is blaming the prosecutors. He did this."
Trump, who was indicted by a federal grand jury last week, is slated to appear for an arraignment at a Miami courthouse on Tuesday.
Christie also addressed members of the GOP who have accused the Justice Department of weaponizing law enforcement against Trump.
"We're in a situation where there are people in my own party who are blaming DOJ. How about, blame him? He did it," Christie said.
"He flew the boxes up to New Jersey for summer vacation. What is this, like, they're a family member?" Christie said of the national security documents Trump reportedly retained. "Seriously, I've got to have my boxes with me. Let me ask you a question. What exactly was he doing with them? Did someone remind him he's not the president anymore?"
Christie previously supported Trump after dropping out of the 2016 Republican primary and briefly headed his transition team before being iced out. Christie ultimately broke with Trump over his fraudulent election claims and the deadly Jan. 6 Capitol riot.
---
Want a daily wrap-up of all the news and commentary Salon has to offer? Subscribe to our morning newsletter, Crash Course.
---
"It was a mistake in 2016 not to confront Donald Trump early," Christie said while announcing his bid for the presidency at an event in New Hampshire last week. "I am going out there to take out Donald Trump, but here's why: I want to win. And I don't want him to win."
"It's the last throes of a bitter man who only wants power back for himself," he said of Trump's re-election campaign.
Trump also drew criticism from fellow Republican candidate Nikki Haley, who previously argued that the Mar-a-Lago probe was evidence of "prosecutorial overreach."
During an appearance on Fox News, Haley criticized the Justice Department while also dinging Trump for his conduct "if this indictment is true."
"One, the DOJ and FBI have lost all credibility with the American people. And getting rid of just senior management isn't gonna be enough to fix this. This is gonna take a complete overhaul and we have to do that," Haley said.
"Two, the second thing can also be true. If this indictment is true, if what it says is actually the case, President Trump was incredibly reckless with our national security," she added. "More than that, I'm a military spouse. My husband's about to deploy this weekend. This puts all of our military men and women in danger if you're going to talk about what our military is capable of or how we would about invading or doing something with one of our enemies. And if that's the case, it's reckless, it's frustrating, and it causes problems."
Read more
about the Trump indictment